Pentagon leaker wanted to 'kill a f**k ton of people' – US
Jack Teixeira's social media posts suggest he is a threat to national security, federal prosecutors claim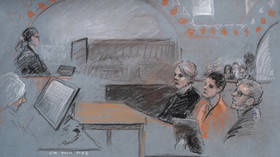 The National Guard airman accused of leaking a trove of secret Pentagon documents amassed a collection of weapons and "had regular discussions about violence and murder" with his online friends, US prosecutors have claimed in court, arguing that the suspect should remain jailed while awaiting trial.
Teixeira appeared in court in Massachusetts on Thursday, where a judge declined to issue a ruling on whether the 21-year-old should be held behind bars or released on house arrest. Teixera is charged with espionage, with the government accusing him of sharing classified Pentagon documents with his gaming friends on a Discord server, from where they leaked onto the broader internet earlier this month.
Prosecutors are arguing that the defendant is a flight risk and a threat to national security. As it is unknown how many more files Teixera is in possession of, they claimed in a court filing on Thursday that "hostile nation states" could "offer him safe harbor and attempt to facilitate his escape from the United States."
Teixeira's defense lawyers ridiculed this argument during Thursday's hearing, calling it "little more than speculation," according to the Associated Press.
However, the prosecution also claimed that the former national guardsman is still a threat, as he owns a "high-capacity AK-style weapon," and "had regular discussions about violence and murder" on his Discord server. Late last year, the government pointed out, Teixeira made a social media post stating that he would like to "kill a [expletive] ton of people" in the name of "culling the weak minded." He also, they claimed, talked about converting a minivan into an "assassination van."
Documents leaked by Teixeira revealed that US and NATO special forces are active in Ukraine, that Ukrainian casualties are higher than publicly acknowledged by US officials, that Kiev's forces are low on ammunition, and that the US has spied on its allies throughout the conflict.
US officials have dismissed many of the leaked files as fake or doctored, yet although the Pentagon has not confirmed or denied their authenticity, Defense Secretary Lloyd Austin responded to the leak by announcing an internal security review in order to "prevent this kind of incident from happening again." The review is currently ongoing.
You can share this story on social media: