Pentagon probes how leaker passed security clearance
The recent disclosure of highly classified material blindsided the US intelligence community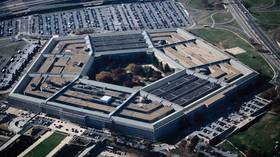 US military officials are scrambling to determine how a National Guard airman who leaked a large trove of top secret documents online last month had security clearance, a Pentagon spokesman has confirmed.
During a Thursday press briefing, Pat Ryder was asked whether the military would seek to shore up its vetting for those granted clearance to access top secret information.
"Broadly speaking, the department is looking at our security process to include the process by which we vet and provide security clearances. So that is part of the ongoing review," he said.
The inquiry comes after hundreds of pages of classified documents were posted online by Massachusetts National Guard soldier Jack Teixeira, who accessed the files after obtaining a high-level security clearance in 2021. Defense Secretary Lloyd Austin has said senior officials did not become aware of the breach until weeks after the fact, noting that he was not briefed on the issue until April 6, after media outlets began reporting on the contents of the documents.
Teixeira was arrested for the leaks earlier this month and charged for unauthorized disclosure of classified material.
Ryder said the military conducts a "continuous vetting process" for personnel with security clearances, including "automated record checks" which pull data from a number of sources related to an individual's criminal and financial history, among other things.
He could not say how Teixeira was able to receive a clearance despite a history of personal issues, stating "this is something that the investigation will tell us… I'm just not able to comment on his particular case."
"It's important not necessarily to take the actions of one individual and somehow paint a picture that indicates a systemic breakdown," he added. "Again, this is under investigation and the investigation will tell us a lot more about this particular individual and what he did and did not do."
According to court filings released this week, Teixeira was denied a gun permit by his local police department due to a prior incident in which he made threatening comments. He had also reportedly discussed fantasies about mass shootings on the same internet forums where he allegedly leaked the classified documents.
A 2020 report by the Office of the Director of National Intelligence found that up to 1.3 million people held top secret clearances, including government officials and private sector employees. Since last month's leaks, some lawmakers have called for the US classification system to be overhauled, urging to scale back the number of people authorized to access sensitive material.
The National Guard airman accused of one of the most significant intelligence breaches in years appeared in court on Thursday to request he be released from custody while he awaits trial; however, the judge in the case has yet to make a decision.
You can share this story on social media: