Erdogan rival plans Türkiye EU bid
Kemal Kilicdaroglu has pledged to revive membership talks, which have been stalled since 2016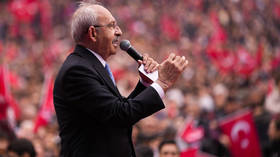 Turkish opposition leader Kemal Kilicdaroglu has told the Financial Times that he would revive EU membership talks if he defeats President Recep Tayyip Erdogan in next month's election. While Kilicdaroglu's campaign rhetoric makes heavy use of pro-Western rhetoric, Erdogan's government has scathingly criticized Brussels.
Kilicdaroglu said on Friday that he would "immediately move towards resurrecting Türkiye's moribund EU membership talks," in the newspaper's words.
The 74-year-old former civil servant, whose People's Republic Party (CHP) leads the six-party National Alliance, condemned Erdogan for restricting civil liberties and said that if elected, his main priorities would be "the economy and democracy."
Türkiye applied for EU membership in 1987 and was recognized as a candidate in 1999. Membership negotiations opened in 2005, but progress was slow, and no talks have taken place since 2016. EU officials have since condemned Erdogan over alleged human rights abuses, and the Foreign Affairs Committee of the European Parliament warned in a 2017 report that constitutional reforms strengthening his powers could run afoul of EU law and threaten Ankara's membership bid.
Erdogan dismissed Brussels' warning. "You can write as many reports as you want," he said at the time. "We do not recognize your reports. We will not recognize them in the future, either."
Türkiye places little stock in what the EU says as Europe's geopolitical influence is waning and its states are little more than American vassals, Interior Minister Suleyman Soylu explained earlier this month. "There is no such thing as Europe," he told members of a youth association in Istanbul. "Europe is a mule in America's convoy. It has no special features."
Kilicdaroglu has been more obsequious toward the EU and its demands. "We are going to start with the normalization process in domestic politics," his adviser, Unal Cevikoz, told Politico last month. "This will simply give the message to all our allies, and all the European countries, that Türkiye is back on track to democracy, and that certainly will create a very serious change in the perception about Türkiye's position."
Türkiye is the only member of NATO that has not condemned Russia over its military operation in Ukraine, and Ankara and Moscow have strengthened their trade links since the conflict began. Kilicdaroglu told the Financial Times that he would maintain economic links with Russia, but declared that "we do not find it right for [Russian President] Vladimir Putin to attack and occupy Ukraine."
To secure a third term in office, Erdogan will need to win over an electorate grappling with stubbornly high inflation and a weakening currency, in addition to the economic fallout caused by last month's earthquakes near the southern city of Gaziantep. Polls currently put Erdogan and Kiliicdaroglu in a statistical dead heat.
You can share this story on social media: