US lawmakers fear AI-instigated nuclear attacks
A bipartisan bill in Congress calls for a ban on the use of artificial intelligence for launching warheads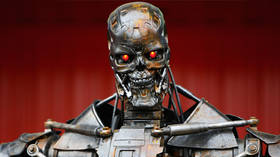 US House and Senate lawmakers have raised alarm bells about the potential use of artificial intelligence in America's nuclear arsenal, arguing that the technology must not be put in a position to fire off warheads on its own.
A group of three Democrats and one Republican introduced a bill that calls for banning AI from being used in a way that could lead to it launching nuclear weapons. If enacted, the legislation would codify a current Pentagon policy that requires a human to be "in the loop" on any launch decisions.
"We want to make sure there's a human in the process of launching a nuclear weapon if, at any point time, we need to launch a nuclear weapon," US Representative Ken Buck, a Colorado Republican, said on Friday in a Fox News interview. "So you see sci-fi movies, and the world is out of control because AI has taken over – we're going to have humans in this process."
Military capable AI is rapidly developing. That's why @tedlieu and I introduced a bill that would block AI from launching nukes. As I told @billhemmer, we want to make sure there's a human chain of command should we find ourselves in that situation. pic.twitter.com/9S5mAWXlW6

— Rep. Ken Buck (@RepKenBuck) April 28, 2023
Buck alluded to Hollywood's portrayal of a nightmare scenario in which AI systems gain control of nuclear weapons, as depicted in such films as 'WarGames' and 'Colossus: The Forbidden Project.' He warned that the use of AI without a human chain of command would be "reckless" and "dangerous."
Representative Ted Lieu agreed, saying, "AI is amazing. It's going to help society in many different ways. It can also kill us." Lieu, a California Democrat, is a lead backer of the AI legislation, along with two other Democrats – Representative Don Beyer of Virginia and Senator Edward Markey of Massachusetts.
Although the idea of an AI-instigated nuclear war might have been dismissed in the past as science fiction, many scientists believe that it's no longer a far-fetched risk. A poll released earlier this month by the Stanford Institute for Human-Centered Artificial Intelligence found that 36% of AI researchers agreed that the technology could cause a "nuclear-level catastrophe."
US Central Command (CENTCOM) last week announced the hiring of a former Google executive as its first-ever AI adviser. The Pentagon has asked Congress for $1.8 billion in funding for AI research in its next fiscal year.
You can share this story on social media: