US sets nuclear detectors in Ukraine – media
A team was sent to place sensors that could attribute blame to Moscow in the event of any potential atomic incident, the NYT reports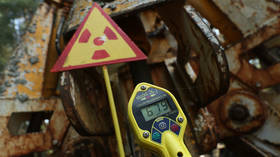 The US government is preparing for a possible nuclear attack in Ukraine by wiring the country with a network of sensors that can identify the origin of any atomic strike, the New York Times has revealed.
The sensors can detect radiation from either a dirty bomb or a nuclear weapon, the outlet said on Friday, citing Washington's National Nuclear Security Administration (NNSA).
"In part, the goal is to make sure that if Russia detonates a radioactive weapon on Ukrainian soil, its atomic signature and Moscow's culpability could be verified," the newspaper said.
The network of radiation sensors is being deployed "throughout the region" and would be able to "characterize the size, location and effects of any nuclear explosion," according to a NNSA unit called the Nuclear Energy Support Team (NEST). The unit is reportedly working with Ukraine to install the sensors, train workers, monitor data, and warn of dangerous levels of radiation.
NEST added that data from the sensors would deny Russia "any opportunity to use nuclear weapons in Ukraine without attribution."
Russian President Vladimir Putin announced last month that tactical nuclear weapons would be placed in Belarus as early as this summer, in response to the UK's decision to provide Ukraine with depleted uranium munitions. He has denied having any intention of using nuclear weapons in Ukraine, but he also has pledged to use "all means available to protect Russia."
Responding to accusations of using "irresponsible nuclear rhetoric," Russian officials have pointed to hypocrisy on the part of the US and NATO, noting that Western leaders ignore the fact that the US has long had nuclear weapons stationed in Belgium, Germany, Italy, the Netherlands, and Türkiye.
Former Russian President Dmitry Medvedev pointed out that US Secretary of State Antony Blinken recently lamented the suffering of the Japanese people from the atomic bombings of Hiroshima and Nagasaki, while failing to mention that Washington carried them out – the only such strikes in world history.
The Times claimed that US radiation sensors could help prevent Moscow from carrying out a 'false-flag' nuclear attack, such as claiming that Kiev detonated a bomb on the battlefield to provoke more direct Western intervention in the conflict. The US Energy Department is spending around $160 million this year on nuclear precautions in Ukraine and has requested a similar amount of funding for the purpose in 2024.
You can share this story on social media: