Australian gallery pulls Aboriginal exhibition over forgery claims
The gallery is now investigating whether the indigenous artists had white help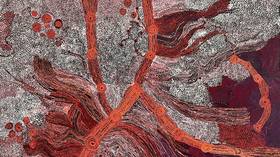 The National Gallery of Australia has stopped promoting a major exhibition of Aboriginal art, after it emerged that studio assistants may have been responsible for some of the works on display.
The exhibition, entitled 'Ngura Pulka – Epic Country' was due to open in June, and featured 28 works by artists from the remote Anangu Pitjantjatjara Yankunytjatjara Lands (APY Lands), located deep in the Australian outback.
However, The Australian, a national newspaper, claimed earlier this month that non-indigenous assistants at an APY art studio took an unknown level of control over the paintings. The gallery announced on Wednesday that it had convened a panel to review these claims, and would cease promoting the exhibition until it issued a report.
"The Panel will determine whether the paintings can properly be described as having been made under the creative control of the persons named as the artists," the Canberra-based gallery said in a statement. According to The Guardian, a number of other Australian galleries with art from the APY collective are conducting their own investigations into their creative provenance.
It is unclear from the statement's wording whether the Aboriginal artists sought the help of their white assistants, or whether the assistants commandeered the paintings without the artists' permission. Whatever the case, the artists' collective described the allegations as "false and seriously defamatory."
"We strenuously deny the overarching narrative that [APY] art and any artists are compromised," it insisted in a statement. "To the contrary, we believe our professional studios meet [the] highest standards of integrity and professionalism."
The collective said that studio assistants helped with "underpainting," a process whereby a preliminary coat of paint is applied thinly to a canvas before the artist begins their work.
Under Australian law, anyone attempting to pass off non-indigenous arts and crafts as "Aboriginal" – carved boomerangs or didgeridoos sold to tourists, for example – can face prosecution. Legislation is currently in the works to give copyright protection to these traditional Aboriginal crafts.
You can share this story on social media: