US opening new immigrant 'processing' centers in Latin America
The facilities in Colombia and Guatemala are meant to cut back on asylum claims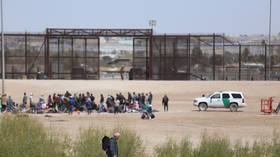 The US is setting up two new "processing centers" in Colombia and Guatemala as part of its efforts to manage the record-high number of immigrants entering the country, officials announced on Thursday.
The centers, operated by NGOs, will screen new arrivals for asylum eligibility before they reach the US border. Migrants can be granted passage into the US for family reunification, or under labor or parole programs. Those not accepted could be redirected to third countries, including Canada and Spain, a senior administration official told reporters.
"We expect to be able to pretty dramatically increase the number of refugees we admit from the Western Hemisphere here through the regional processing centers," a US official said. The US is already working with other Latin American countries to open more processing centers and is said to be streamlining the admission of migrants' families.
The policy shift coincides with the repeal of Title 42, a Covid-19-era emergency order left over from the administration of former President Donald Trump that allowed some migrants to be turned away at the border. When that measure expires on May 11, Customs and Border Protection (CBP) expects between 10,000 and 13,000 migrants to attempt the border crossing every day. Such a number would swamp not only the CBP but the Department of Homeland Security and every agency and NGO tasked with processing and sheltering the new arrivals.
The processing centers are an attempt to avoid such a scenario, officials claimed, and should not be mistaken for an embrace of illegal immigration. Migrants approaching the southern border without having sought asylum in a country they passed through on the way or not having signed up for one of the difficult-to-get appointments in the CBP's smartphone app will be quickly removed, the administration has promised.
"Migrants who cross the US border without authorization and who fail to qualify for protection should expect to be swiftly returned with at least a five-year bar to returning," the State Department said in a statement. The new plan is intended to help migrants "safely enter the United States lawfully rather than paying for dubious help from migrant smugglers and criminal organizations," an official added.
Illegal border crossings surged to a record 2.76 million last year, and last month saw nearly 25% more migrants caught attempting the crossing than usual.
You can share this story on social media: