Musk's lawyer invokes 'deepfake' defense
The billionaire entrepreneur has been accused of exaggerating features on Tesla's self-driving vehicles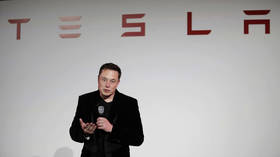 A judge has ordered Elon Musk to testify under oath about whether he made certain claims about his company's electric cars, after Tesla lawyers said statements attributed to him by plaintiffs in an ongoing lawsuit could have been fabricated with 'deepfake' software.
The ruling from California Judge Evette Pennypacker was handed down on Wednesday, part of a lawsuit against Tesla over the death of Walter Huang, who was killed in a car crash involving one of the company's vehicles in 2018.
Musk was ordered to provide a three-hour interview under oath regarding some of his past comments about Tesla cars and their 'Autopilot' capabilities. The CEO is alleged to have claimed that some models could "drive autonomously with greater safety than a person" at a conference in 2016. The plaintiffs in the suit say the claims were misleading and that the self-driving features on Huang's Tesla had failed, resulting in his death.
The carmaker, however, maintains that Huang was on his cell phone before the crash and had disregarded warnings from the vehicle, denying any liability. Company lawyers also dispute the comments attributed to Musk, saying that he, "like many public figures, is the subject of many 'deepfake' videos and audio recordings that purport to show him saying and doing things he never actually said or did."
Though Huang's family cited a 2016 YouTube video which appears to show Musk making the statement in question, Tesla's legal team has opposed the CEO's deposition, also stating that he cannot remember his past comments.
Judge Pennypacker said Tesla's claims are "deeply troubling," suggesting the company's defense could make all of Musk's public statements "immune" from legal scrutiny simply because he is "famous." She warned similar arguments could allow celebrities and public figures to "avoid taking ownership of what they did actually say and do."
However, the judge's order was tentative, meaning that another hearing will be held on Thursday to determine whether Musk will be deposed under oath. Such rulings are not uncommon in California courts, which frequently allow parties to offer additional arguments to dispute motions before they are finalized.
You can share this story on social media: