Poland seizes Russian embassy and trade mission funds
Moscow's envoy has called the move a "flagrant violation" of the Vienna Convention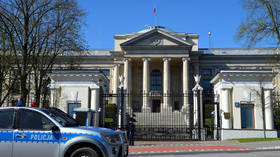 All the money in the accounts of the Russian embassy and trade office in Warsaw has been seized by the Polish prosecutor's office, Ambassador Sergey Andreyev revealed on Wednesday.
"We received a notification from the prosecutor's office that the funds from the Santander Bank accounts of the embassy and the trade representation were transferred to the accounts of the prosecutor's office," Andreyev told RIA Novosti.
Santander Bank then informed the embassy that it had "ceased cooperation" with the Russian government and closed the accounts, Andreyev added. There were "significant amounts" of both US dollars and Polish zlotys in both accounts, according to the diplomat.
Andreyev called the incident "a flagrant violation of the Vienna Convention on Diplomatic Relations," the 1961 treaty governing the rights and responsibilities of diplomats.
The Polish authorities had previously frozen the embassy account, citing suspicions that it might be involved in "money laundering or terrorism." When this prevented the embassy from paying the lease on a recreational facility near Warsaw, the Polish authorities terminated the lease and seized the property in November 2022.
Another property, a residence on 100 Sobieski Street, was seized last spring. Warsaw Mayor Rafal Trzaskowski said at the time it should be handed to refugees from Ukraine. The Polish foreign ministry said the building was "illegally owned" by the embassy as it was not being used for diplomatic or consular purposes. The embassy's explanation, that the building was unfit for occupancy as it needed repairs, was ignored.
Poland has also sought to confiscate the embassy-operated school in Warsaw, citing the same pretext. The Russian Foreign Ministry has protested both seizures as a flagrant violation of international law.
Many EU and NATO countries have expelled dozens of Russian diplomats after the Ukraine conflict escalated in February 2022, but most did not go so far as to sever relations with Moscow. The US and its allies have insisted they are not actually involved in the conflict, even while they sent Kiev over $100 billion worth of weapons and financial aid.
You can share this story on social media: