US to send nuclear-armed submarines to South Korea
The deployment, the first of its kind in decades, comes amid persistent missile tests by the North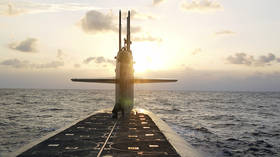 The US will deploy submarines to South Korea armed with nuclear ballistic missiles, officials told reporters on Tuesday. Intended to deter North Korea from further missile tests, the deployment is also likely aimed at reassuring the South Korean public, who recently learned that the US systematically spied on their government.
The plan will be officially announced by US President Joe Biden and his South Korean counterpart, Yoon Suk-yeol, at the White House on Wednesday, the officials said in comments to multiple US media outlets.
Both men are expected to sign an agreement known as the 'Washington Declaration,' under which they will step up intelligence sharing and joint military exercises, while the US will send nuclear-armed submarines and bombers to South Korea on a rotating basis.
"We intend to take steps to make our deterrence more visible through the regular deployment of strategic assets, including a US nuclear ballistic submarine visit to South Korea, which has not happened since the early 1980s," one of the anonymous officials said. They compared the move to "what we did with European allies during the height of the Cold War in similar periods of potential external threat," referring to the north's missile program.
Pyongyang has test-fired more than 100 missiles since the beginning of 2022, and this month alone tested its first solid-fuel intercontinental ballistic missile and a nuclear-capable underwater attack drone. Officials in Washington and Seoul have claimed since last year that the north is gearing up for its seventh underground test of a nuclear weapon.
North Korea considers US deployments near its territory to be "provocations," and usually responds with verbal threats, drills of its own, or new weapons tests.
Aside from deterring North Korea, the deployment of nuclear-armed submarines to the south is likely intended to patch up relations between Washington and Seoul, which were rocked when recently-leaked Pentagon documents revealed that the US spied on top South Korean officials to determine their stance toward sending arms to Ukraine.
The official told reporters that "by undertaking these new procedures," the US hopes to remind Seoul that America's "commitment" to the country is "unquestioned."
You can share this story on social media: