Senior Iranian cleric shot dead – media
Abbas-Ali Soleimani was a member of the Council of Experts, a leading oversight body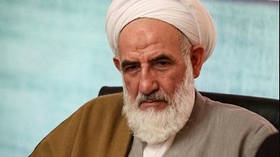 Senior Iranian religious leader Abbas-Ali Soleimani was shot dead in an incident at a bank in the city of Babolsar on Wednesday morning, national media have reported.
The suspect was arrested at the scene, a local security official in the Mazandaran province told the IRNA news agency. The gunman's motive has yet to be determined.
A local media report cited by the semi-official Tasnim outlet said the incident happened at the central office of the National Bank of Babolsar. The suspect is said to have grabbed a gun from a security guard and shot multiple people, one of whom was Soleimani.
The Iranian cleric, who was in his mid-70s, served on the Council of Experts, an 88-seat clerical body that oversees state policies. One of its functions is to appoint the supreme leader of the Islamic nation, a position currently held by Ali Khamenei.
Soleimani was serving his second eight-year term in the organization, which held its last election of members in 2016. During both terms he represented the province of Sistan and Baluchestan.
He was previously appointed by Khamenei as a senior Islamic jurist in the city of Kashan in Isfahan province, as well as in Sistan and Baluchestan. He also held the position of the Imam of Friday Prayer in several Iranian cities.
You can share this story on social media: