Iranian court delivers sentence over downing of Ukrainian passenger plane
Ten people have been given 1-13 years behind bars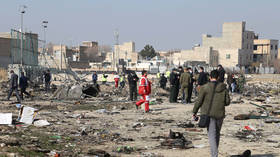 A military court in Tehran on Monday sentenced ten defendants to prison over the downing of a Ukrainian passenger jet, Iranian news agency Mizan reports. An Iranian missile struck the Ukrainian plane in January 2020. All 167 passengers and nine crew members on board were killed.
The primary suspect, a commander of the Iranian Air Defense system that shot down the Ukrainian Boeing 737-800 airliner, was sentenced to a total of 13 years in jail on several charges, according to Mizan.
Nine other defendants, including the air defense system's crew, a Tehran military base commander, and an officer at the regional operations control center, as well as a regional Air Defense commander, were sentenced to between one and three years behind bars.
The primary defendant was also ordered to compensate the relatives of the people killed in the incident. Iran vowed to pay $150,000 for each victim, in addition to compensation payments ordered by the court.
The court also imposed "additional punishments" on the defendants, the outlet said, without elaborating further. The defendants still have 20 days to appeal the decision.
Neither Tehran nor Kiev have commented on the ruling so far.
The 2020 tragedy happened as the Iranians were bracing for potential US retaliation for ballistic missile strikes on US military bases in Iraq. According to Tehran, the air defense system crew mistook the airliner for a ballistic missile. The Iranian strikes were launched in a show of force and in response to the US' assassination of Iranian General Qassem Soleimani days earlier.
Tehran blamed the incident on a string of human errors, as well as a trigger-happy operator of the air defense system. Iran agreed to pay Ukraine in July 2020, but the amount remained unidentified at the time. Kiev criticized Tehran over what it called a failure to take responsibility and ensure such incidents would not happen again.
You can share this story on social media: