EU demands more online censorship
Twitter and 18 other large platforms will face fines if they don't crack down on "disinformation"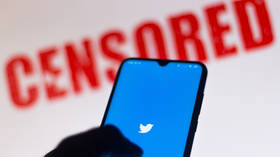 The European Commission has designated 19 online platforms under its Digital Services Act, a move that opens them up to hefty fines if they target advertisements at certain users, publish illegal content, or fail to "address the spread of disinformation."
In an announcement on Tuesday, the commission named 17 "Very Large Online Platforms" and two "Very Large Online Search Engines," defined as those reaching at least 45 million monthly active users. Among the platforms cited are Facebook, Instagram, TikTok, and Twitter, while Google and Microsoft's Bing are the two designated search engines.
The decision means that as of August, these platforms must be in compliance with the EU's Digital Services Act (DSA), a wide-ranging piece of legislation that came into force in November.
To avoid fines of up to 6% of their global annual turnover, the commission stated that these platforms must label all advertisements as such and avoid targeting ads at users based on "sensitive data" such as their ethnicity, sexuality, or political orientation.
Targeting ads toward children will no longer be permitted, and platforms will have to "redesign their systems to ensure a high level of privacy, security, and safety of minors," the commission said.
Regarding content moderation, platforms will be required to restrict the "dissemination of illegal content" and "address the spread of disinformation." The entire text of the DSA mentions the word "disinformation" 13 times without defining it. Free speech activists have argued that the term is often used by governments to silence factually correct yet politically inconvenient narratives.
The commission also warned that platforms and search engines will need to address "negative effects on freedom of expression," a requirement that could clash with the demand to tackle "disinformation."
While the DSA was being drafted last year, EU officials singled out Twitter as a company that would be forced to comply with its requirements. Immediately after billionaire Elon Musk bought the platform and set about rolling back some of its restrictive speech policies, EU industry chief Thierry Breton declared that "in Europe, the bird will fly by our European rules."
Two months later, EU Commissioner for Values and Transparency Vera Jourova warned that Twitter would face "sanctions" if it breached the DSA. Jourova cited Musk's banning of several prominent journalists – who shared information on his whereabouts – as potential DSA violations.
You can share this story on social media: