US had secret plan to kill Wagner PMC commanders – WaPo
An attack against the military group in Mali might have been planned by Ukraine, leaked papers show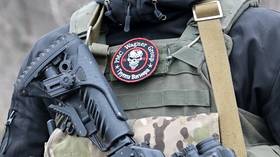 US officials considered killing top officers from the Russian private military company Wagner, in an attempt to curb its growing influence in Africa, The Washington Post reported on Sunday.
A document trove leaked by a US guardsman contains files that list multiple scenarios for "coordinated US and allied disruption efforts" against Wagner, including "kinetic" options, the newspaper reported. The US also considered providing information to help Ukraine kill commanders with the PMC in Africa, the document claims.
The files contain little evidence that the CIA, the Pentagon and other US agencies have caused Wagner any major setbacks in the past six years, according to the Post. They did mention a single "successful unattributed attack in Libya" that "destroyed a Wagner logistics aircraft," but the newspaper did not provide any further details.
Western nations have long accused the Wagner group of spreading malign influence in Africa. Its head, businessman Evgeny Prigozhin, has described the services provided by his employees as furthering the anti-colonialist aspirations of African nations.
Anas El Gomati, a Libya-based commentator interviewed by the Post, claimed that Wagner was "probably the most destabilizing actor" currently operating in the country. Libya was one of the most prosperous nations on the continent, before a NATO-backed uprising against Muammar Gaddafi resulted in his brutal death in 2011. The country has since been riven by warring factions.
A second leaks-based story published by the Post on Monday cites a document alleging that Ukraine's military intelligence service, the GUR, and its head, Kirill Budanov, planned an attack on Wagner officers in Mali.
The Post described Budanov as "an ambitious 37-year-old general and rising star in the Ukrainian military," for whom US and European officials privately express "admiration" and whose "audacity sometimes makes them nervous."
Russia has accused the GUR of masterminding an attack on the Crimean Bridge last October. A powerful explosion killed a seemingly unwitting truck driver who ferried the bomb – as well as a couple in a car which happened to be nearby when the device went off.
Moscow has also blamed Ukrainian special services for the assassinations of journalist Darya Dugina in August 2022 and military blogger Vladlen Tatarsky earlier this month.
You can share this story on social media: