Germany blames Russia for Western setbacks in Africa
Defense chief expresses alarm at Moscow's growing traction on the continent, especially in the Sahel region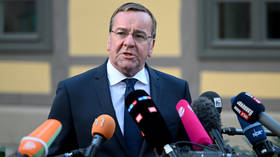 Berlin has reiterated concerns about Russia's growing influence in Africa, with the German defense minister claiming on Wednesday that the West is facing a geopolitical reversal in the region, particularly in the Sahel.

"Russian narratives and offers seem to be gaining traction here, and the Western community is losing ground here. And the Sahel is and will remain strategically relevant for precisely this reason, especially given the Russian presence in the region," Boris Pistorius said.

He made the remarks in parliament during a debate about deploying German troops to Niger as part of a European Union military mission aimed at mitigating the risk of violence spillover from neighboring Mali.

French President Emmanuel Macron has previously accused Moscow of pursuing a "predatory project" in Africa, particularly in Burkina Faso and Mali, where Paris has suffered military failures. Such a stance by Western nations shows a "neo-colonial approach," according to remarks by Alexey Saltykov, the Russian ambassador to Ivory Coast and Burkina Faso.

At the same time, Rwandan President Paul Kagame has urged Western powers not to involve Africa in their political issues while emphasizing that Russia, like any other country, has the freedom to be present anywhere on the continent.

"Those who come to Africa… you hear people complain about China, then about Russia, but how about them? What right do they have to be in Africa that others don't have?" Kagame said on Saturday during his visit to Benin.
He said African countries needed to "just get together to identify what we need in terms of partnership and who offers what we need, and leave to them their own, other problems."

African leaders are increasingly supportive of Russia's presence on the continent, with South Africa, Djibouti, and Mali recently strengthening military ties with Moscow.

Russian President Vladimir Putin has also expressed Moscow's commitment to "continue building a full strategic partnership" with Africa. He has also made known plans to continue supplying grain to needy African countries in the event Moscow exits a landmark agreement with Ukraine to allow exports from the country's Black Sea ports. "I want to emphasize that our country has always given and will continue to give priority to co-operation with African states," Putin said in a televised address at a conference on Russian-African relations in March.
You can share this story on social media: