Defense spending in Europe back to Cold War levels – SIPRI
The UK was 2022's biggest spender in the region at $68.5 billion, according to Stockholm International Peace Research Institute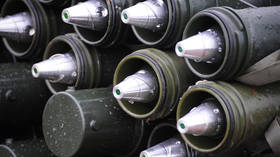 Europe's military expenditure saw its sharpest year-on-year increase in at least 30 years in 2022, driven by the conflict in Ukraine, according to the Stockholm International Peace Research Institute's (SIPRI) latest annual report. Meanwhile, total global military expenditure was up 3.7% in real terms, reaching a new height of $2.24 trillion.
Worldwide, the three biggest spenders last year were the United States, China and Russia, together accounting for 56% of the total. US spending dwarfed that of its geopolitical adversaries, however, reaching a total of $877 billion, while Beijing spent $292 billion and Moscow about $86.4 billion, according to SIPRI data.
The sharpest rise by far (13%) was seen in Europe, however, largely driven by Russian and Ukrainian spending, but also by ramped-up fears in neighboring states.
"Military aid to Ukraine and concerns about a heightened threat from Russia strongly influenced many other states' spending decisions," the report explained.
In Central and Western Europe, military expenditure surged to a total of $345 billion, surpassing in real terms the spend in 1989 as the Cold War drew to a close. Compared with more recent years, expenditure by these states was still 30% higher in 2022 than in 2013.
Russia's military operation in Ukraine had an "immediate impact" on military spending decisions in the region, SIPRI noted. This was seen not just in short-term boosts but in "multi-year plans to boost spending from several governments," Dr Diego Lopes da Silva, a senior researcher with SIPRI's Military Expenditure and Arms Production Programme said.
Some of the biggest increases were witnessed in Finland (up 36%), Lithuania (up 27%) and Sweden (up 12%), the data shows.
In the US, the bulk of its increase in expenditure was accounted-for by the "unprecedented level of financial military aid it provided to Ukraine," SIPRI said.
Notably, while Washington's military aid to Ukraine last year totalled $19.9 billion – the largest sum given by any country to a single beneficiary since the Cold War – it still represented only 2.3% of the US's total defense spending for the year.
Skyrocketing defense spending is "a sign that we are living in an increasingly insecure world," according to Dr Nan Tian, another senior SIPRI researcher.
"States are bolstering military strength in response to a deteriorating security environment, which they do not foresee improving in the near future," he said.
You can share this story on social media: