White House 'disconnected' from intelligence – Seymour Hersh
Biden seems uninterested in what spooks say about the Nord Stream sabotage, the journalist said in an interview aired by RT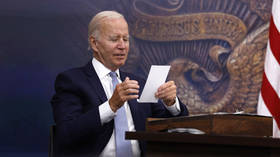 US President Joe Biden doesn't seem interested in complicated analysis from the intelligence community, including information on the Nord Stream sabotage, American investigative journalist Seymour Hersh has said.
"There are people [in US intelligence agencies] that do analysis and write complicated foreign policy studies. It's an intellectual game," he told Afshin Rattansi on Going Underground, which was aired by RT on Monday.
"Many of them feel isolated, because there is no sign that the White House is terribly interested in long-term national intelligence estimates. And they certainly don't want one on the pipeline," he added.
Hersh reported earlier this year that Nord Stream, which had supplied oil from Russia to Germany, had been sabotaged in a joint US-Norwegian operation ordered by Joe Biden last September. Both nations deny the allegation.
"I don't know what's going to happen with the pipeline story. I don't know if it's ever going to come out, because this government will never investigate it, at least in an honest way," Hersh said in the interview that aired on RT on Monday.
Describing the apparent "disconnect" between the White House and the US intelligence community, the veteran journalist said some professional analysts "don't see Biden as an ardent reader of their work."
He compared Biden's attitude to that of another US president, Ronald Reagan, who was described as "not much of a reader" of detailed intelligence reports, which "rarely reached his desk," according to one account.
According to an anecdote recalled by Hersh, people in the CIA realized that Reagan was not reading the daily briefs prepared for him by the agency.
"Colin Powell… figured a way to do it. He would tape it into video, and then plug the video in for Reagan to watch," the journalist added.
Powell served as national security adviser in the Reagan administration. The president's preference for visuals rather than text was reported by many sources. However, the CIA has dismissed Reagan's purported aversion to its written material as a myth.
You can share this story on social media: