Seymour Hersh reacts to NYT hunting Pentagon leaker
The reporter says his former employer, the New York Times, has become completely "pro-Biden"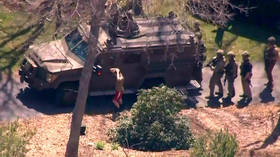 Seymour Hersh has slammed the New York Times over its pro-government stance and treatment of sources, and the way it helped the FBI track down suspected Pentagon leaker Jack Teixeira. The veteran investigative journalist gave an interview to Afshin Rattansi on 'Going Underground.'
Teixeira, who posted classified US intelligence data on the conflict in Ukraine and other issues in an online gaming forum, was apprehended by the FBI last week. The arrest took place after the NYT and the Washington Post – in cooperation with Western-funded "open source investigations" outfit Bellingcat – tracked down the source of the documents and publicly exposed his identity. The NYT also located Teixeira's home in Massachusetts and spoke with his mother.
"Don't get me going on the press; the press is a no-win situation for me," Hersh said when asked about the issue during the program.
The veteran journalist mentioned that he worked at the NYT for many years and "won a lot of prizes," at a time when the paper was much better at protecting its sources.
"One of the most important stories I wrote [in 1974] about the CIA spying on American citizens had nobody named in it," he said.
The NYT has shown itself to be completely "pro-Biden" as it doesn't criticize the US president at all, Hersh argued. The Pulitzer Prize winner said that along with other major outlets, the paper did not report on his recent bombshell article blaming the Biden administration for the explosions on the Nord Stream pipelines in the Baltic Sea last September. They only published "counter stories given by the intelligence community," the 86-year-old added.
Hersh went on to claim that Donald Trump "terrified" the media when he became US president in 2017 despite "all the mocking they did… And they're terrified again. I'll tell you there's a lot of people very worried that we might end with Biden-Trump ticket in 2024."
In such a situation, "you can't be shocked that the Times would be – as a good citizen – turning to the FBI… of course, I am [shocked], but you can't be."
The full version of Going Underground's interview with Seymour Hersh will be aired on RT on Monday.
You can share this story on social media: