Most Americans want to move on from Biden and Trump – poll
70% of respondents said the incumbent shouldn't bid for office in 2024, with that figure 60% for the Republican former leader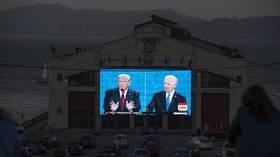 The majority of Americans do not want Joe Biden or Donald Trump to run for the presidency in 2024, a recent poll has indicated. Half of the respondents who believe the incumbent president should not seek a second term cited his advanced age as a "major" reason.
NBC News shared the results of a survey on Sunday that it conducted among 1,000 individuals from April 14 to 18.
Of those questioned, 70% said they do not want Biden to run for four more years in the Oval Office. That number dropped to 51% for Democratic Party voters.
Among those surveyed, 60%, including a third of Republicans, said they are against Trump running for president in 2024.
Explaining their preferences, around half of the respondents who don't want Biden to run argued that the current president's age is a "major" reason.
NBC quoted one Democratic respondent as arguing that the "president needs to reflect the age group in the country," and that both Biden and Trump "should retire."
Aged 80, Biden is already the oldest head of state in US history. He will be 82 on election day in 2024, and 86 by the end of a hypothetical second term.
Trump, who served as president from 2017 to 2021, is currently aged 76.
However, the poll illustrated that most Democratic and Republican supporters appear loyal to Biden and Trump respectively, despite their perceived faults.
Among those questioned, 88% of Democrats said they would definitely or probably vote for the incumbent, should he run in 2024.
In the Republican camp, two-thirds of primary voters said they stood behind Trump despite the criminal charges he is facing. According to the survey, 68% of Republicans believe the investigations into the 45th US president's alleged misdeeds are politically motivated.
With such sentiment prevalent among GOP voters, Trump appears to be comfortably ahead of the other contenders for the Republican nomination, NBC News claimed.
The findings seem to tally with those of a similar survey carried out by the Associated Press between April 13 and 17.
That poll stated that fewer than 50% of Democrats want Biden to run for a second term. This sentiment is particularly prevalent among young demographics, the survey showed.
You can share this story on social media: