Chinese 'rent-a-womb' industry menacing US – think tank
Chinese citizens hiring American women to bear their children pose a national security risk, according to the Heritage Foundation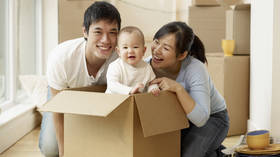 The burgeoning Chinese-American "rent-a-womb" industry, in which aging Chinese couples draft fertile American women to give birth to offspring with US citizenship, is a threat to national security, according to right-wing think tank the Heritage Foundation.
"When it comes to Chinese infiltration into every aspect of American life, this is a huge red flag," Emma Waters, a research associate with the foundation, told Fox News on Friday. She described a system in which embryos are created via in vitro fertilization in China or the US and then implanted stateside in an American woman, who gives birth nine months later to an American citizen with Chinese DNA. The child is then sent back overseas, raised by Chinese parents with Chinese values.
"Chinese children birthed by an American surrogate gain and maintain the full rights of US citizenship just by being born here," Waters wrote in a Federalist oped earlier this week, pointing out that "when the child turns 21, the parents will have direct access to citizenship through a green card application."
Waters described the demographic camouflage US citizenship gives the Chinese children of American surrogates as a national-security threat. "We have no idea who these children are, so should they come back and get involved in research or academia or purchase contracts or even apply for jobs in sensitive areas, we don't have clear tracking to show that these 'US citizens' actually had a far more complicated background and path to the US," she explained.
No US federal or state laws require the tracking of international surrogacy procedures by country, and many fertility clinics offer their services in Mandarin alongside boasts that they are the "top destination for international surrogacy thanks to the favorable legal, societal, and medical conditions of the United States."
Surrogacy is illegal in China, which until 2015 limited most couples to a single child – a policy that led to a significant over-representation of males in the country of 1.4 billion people. While Waters acknowledged there was no definite link between the Chinese Communist Party and the commercial surrogacy industry, she suggested its popularity was part and parcel of a Communist invasion that also includes Chinese investments in Hollywood and farmland purchases.
While Waters called for federal restrictions on Chinese surrogacy, hundreds of Chinese babies are born to American women in California alone every year, NPR revealed last year – a significantly more expensive (upwards of $100,000 per child) version of the "anchor baby" phenomenon that incited demographic panic in previous generations of Fox News audiences.
You can share this story on social media: