German tanks pose problems for Ukraine – Foreign Policy
The hardware donated by eight countries reportedly fires different rounds, making it impossible for Kiev to buy munitions in bulk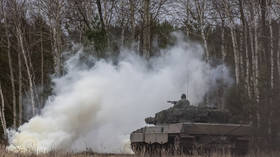 Ukraine will likely have to procure a range of different munitions, rather than a single type, for German-made Leopard tanks, supplied by some of its western backers, Foreign Policy has reported.
On Thursday, the media outlet claimed that the vehicles provided to Kiev, by eight countries, are not uniform in terms of the shells they fire. The article also highlighted the supposed inadequacy of air defences that have already been supplied.
Foreign Policy wrote that the "Leopard tanks arriving from eight different countries fire different rounds, meaning that Ukrainians can't buy munitions for their newly tricked-out ground forces in bulk."
As for Abrams tanks which the US has pledged to donate, these will likely take months to actually arrive on the battlefield, the outlet noted.
According to the article, Ukraine is also facing severe shortages of modern air defense systems. The country reportedly has enough to cover just a few cities. To make matters worse, the Hawk missile systems provided by Washington have been shipped without radars, Foreign Policy claimed.
The setbacks are supposedly holding up Kiev's planned spring counteroffensive, and causing discontent among the Ukrainian leadership.
The media outlet cited President Vladimir Zelensky's calls on the West to step up its military support for Ukraine late last month.
Echoing that sentiment, Aleksey Danilov, the secretary of Ukraine's National Security and Defense Council, lamented to the Associated Press earlier this week that some of Ukraine's backers "promise one thing and do a completely different one." The official also made it clear that "nobody will start unprepared," referring to the planned counteroffensive.
A Ukrainian MP quoted by Foreign Policy claimed that the push had originally been planned for April, but had to be postponed indefinitely due to the lack of weapons necessary to pull it off.
On Friday, the New York Times published a report saying that as of late February Kiev had only 200 of the 253 tanks that US military officials deemed sufficient for a successful counteroffensive. The paper, citing leaked Pentagon documents, noted that the majority of hardware was of Soviet design.
The NYT also claimed that the US and its allies were having difficulty keeping up with Ukraine's demand for artillery shells.
You can share this story on social media: