US state abolishes death penalty
Washington Governor Jay Inslee said capital punishment had been applied "unequally" and in a "racially insensitive manner"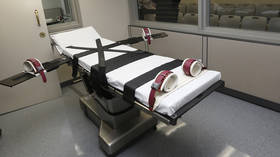 Washington state has passed a bill to abolish the death penalty, formally codifying a previous court ruling against the practice. The legislation also contained other criminal justice reforms, including a ban on the use of sterilization as a punishment for crimes.
Governor Jay Inslee, a Democrat, signed the bill into law on Thursday, making Washington the 23rd US state to do away with capital punishment. The legislation removed language pertaining to the death penalty from the state's criminal code, after the Washington Supreme court ruled that it contained "defects."
"I initiated a moratorium against the death penalty in Washington State in 2014, and our rationale for that decision was affirmed by our [state] Supreme Court decision in 2018, when they invalidated the death penalty statute," Inslee said during the bill's signing. "They made clear… that the penalty has been applied unequally and in a racially insensitive manner."
Passing the state legislature earlier this month, the bill faced opposition from Republicans. State Rep. Jim Walsh said the measure was "rushed" and merely a "collection of narrow, technical corrections" rather than a "fundamental change" to the state's death penalty laws.
While the Washington Supreme Court ruled against capital punishment in 2018 – finding the penalty was unequally applied and disproportionately used against black Americans – Walsh argued the court "did not find the death penalty per se unconstitutional" and challenged the legitimacy of the recently passed bill.
Opponents of the death penalty, including the Washington chapter of the American Civil Liberties Union (ACLU), praised the new legal changes, with the group's legislative director, M. Lorena Gonzalez, telling CNN that the state's criminal justice system is plagued by "racial bias."
"We are pleased that the Washington state Legislature has finally finished the work of ending this arbitrary and discriminatory practice," she added.
Washington has carried out five executions since capital punishment was reinstated by the US Supreme Court in 1978, with the most recent in 2010, according to data compiled by the Death Penalty Information Center (DPIC).
Capital punishment remains legal in 27 states, DPIC says, noting that just over 2,400 people are currently on death row in the US.
You can share this story on social media: