US state executes first trans prisoner 
A 49-year-old convicted rapist has received a lethal injection for stalking and killing an ex-girlfriend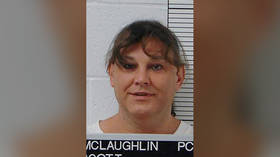 Convicted murderer Amber McLaughlin became the first openly transgender prisoner to be executed in the US on Tuesday, when she was put to death by lethal injection. McLaughlin, then male and using her birth name Scott, was found guilty in 2006 of first-degree murder in the slaying of an ex-girlfriend three years earlier.
She was sentenced to death by a Missouri judge after a jury was unable to agree on a sentence. The perpetrator left a written statement on Tuesday reading, "I am sorry for what I did. I am a loving and caring person."
After stalking then-girlfriend Beverly Guenther at her workplace enough to merit a restraining order and occasional police escort for Guenther, McLaughlin was apparently the primary suspect when the woman's neighbors in St. Louis reported her missing, leading police to the site by the Mississippi River where the assailant had dumped her body. The dead woman had been raped and repeatedly stabbed with a steak knife, authorities told the AP.
McLaughlin had previously been convicted of raping a 14-year-old girl in 1992.
The 49-year-old, who began transitioning in prison three years ago, was denied a last-minute clemency request by Missouri Governor Mike Parson on Monday. Her lawyer referenced childhood trauma, mental health issues including depression and suicide attempts, and gender dysphoria, while stressing the last of these was "not the main focus" of the petition.
"McLaughlin terrorized Ms. Guenther in the final years of her life, but we hope her family and loved ones may finally have some peace," Parson said in a written statement following the execution.
Karen Pojmann, a spokeswoman for the Missouri Corrections Department, told the AP that while the state had only ever executed one woman before, the nature of McLaughlin's crime set her apart. "It is extremely unusual for a woman to commit a capital offense, such as a brutal murder, and even more unusual for a woman to, as was the case with McLaughlin, rape and murder a woman."
You can share this story on social media: