Louisville bank shooter did it for gun control – media
Connor Sturgeon was allegedly suicidal and also wanted to draw attention to mental health when he killed five of his former coworkers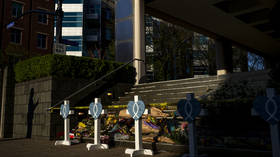 Louisville bank employee Connor Sturgeon opened fire at his workplace because he was suicidal and wanted to prove how easy it was to get a gun in the US, the Daily Mail reported on Thursday, citing the shooter's manifesto, which is still in the hands of police.
Sturgeon also allegedly wanted to highlight the "mental health crisis" in the US when he live-streamed the murder of five of his colleagues at Old National Bank on Instagram, according to the 13-page document. The manifesto reportedly describes how he legally purchased his AR-15 earlier this month despite being under medication treatment for depression and anxiety, less than a week before gunning down his coworkers at the bank branch.
The reported content of the document echoes Sturgeon's cryptic Instagram posts the morning of the shooting, one of which read, "They won't listen to words or protests. Let's see if they hear this."
Sturgeon left his roommate Dallas Whalen a voicemail in which he claimed he felt "suicidal" and was going "to kill everyone at the bank," police told CNN. He sent notes with similar content to his parents as well as Whalen, complaining he was about to lose his job at the bank. His mother and younger brother reportedly approached police outside the scene of the shooting to confirm Sturgeon's identity.
The 25-year-old entered the branch the morning of April 10 before it was open to the public, shooting at one woman before making for the conference room and killing the five executives. Sturgeon then hid in the lobby waiting for police, who arrived just three minutes after the first active shooter report and quickly neutralized him.
The killer's family have since joined their son in advocating for gun control legislation, releasing a statement on Thursday claiming to be "aghast to learn Kentucky law mandated the assault rifle used in the horrific event last week be sold to the highest bidder at public auction."
"We respectfully urge the Kentucky state legislature to lead the way by changing Kentucky law to remove the gun auction provision," the statement reads, describing Connor's rampage as "yet another indication that meaningful, common sense gun safety measures must be enacted."
Sturgeon's family is having his brain tested for chronic traumatic encephalopathy (CTE), a degenerative brain condition resulting from repeated head injuries that can cause aggression. Their lawyer pointed out that Sturgeon suffered multiple concussions while playing high school basketball.
You can share this story on social media: