Gunman livestreams bank killing spree on Instagram
At least five people were shot dead and several more injured during the rampage in Kentucky's largest city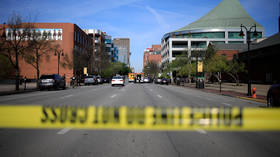 A mass shooting in downtown Louisville, Kentucky has left at least five people dead and eight others wounded, after a gunman opened fire on a bank while livestreaming the attack to social media.
The Louisville Metro Police Department (LMPD) said that its officers responded to an "active aggressor" armed with a long rifle at a bank near the iconic Slugger Field baseball stadium on Monday morning. According to acting Police Chief Jacquelyn Gwinn-Villaroel, officers exchanged gunfire with the assailant and he was killed at the scene.
"We responded in a timely, quick fashion and we stopped the threat so that no additional loss of life could be taken," Gwinn-Villaroel said.
An earlier death toll provided by police was later revised to five victims, after one of those injured, Deana Eckert, 57, died of her injuries. Two of the other injured people include police officers, one of whom was said to be in critical condition and required brain surgery as a result of the shootout.
Police have since identified the shooter as 25-year-old Connor Sturgeon, who was previously described as a "lone gunman" who "did have a connection to the bank." Investigators are still working to determine the motive of the attack, and have offered no other details about the assailant. Federal law enforcement agencies are reportedly participating in the probe.
Kentucky Governor Andy Beshear offered condolences to the victims and their families, telling reporters that two of his close friends were killed in the "terrible act of violence," while a third was injured.
The authorities say at least part of the attack was captured on a livestream shared to Instagram, though the platform's parent company – Meta, which also owns Facebook – said it "quickly removed the livestream of this tragic incident this morning."
President Joe Biden also noted the incident in a social media post, quickly turning the shooting into a political cudgel to wield against his Republican rivals.
Just hours after the bank attack, another shooting left one man dead and a woman wounded outside the nearby Jefferson Community and Technical College in Louisville, but police have said the incident was unrelated.
You can share this story on social media: