Staff warned Google about Bard AI dangers – media
The chatbot issues life-threatening advice, a survey of workers reveals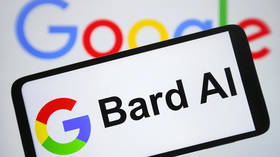 Thousands of Google employees tried to warn the company that its AI chatbot, Bard, is not just a "pathological liar," but potentially a murderer, offering advice that could lead to death, Bloomberg reported on Wednesday. 18 current and former Google staff who spoke to the outlet added that the company did not listen.
One employee claimed they informed Google management that Bard's tips on scuba diving would "likely result in serious injury or death," while another said its description of how to land a plane would almost certainly result in a crash.
A third employee, in a note that was seen by 7,000 Google users, described Bard as "worse than useless," and begged the company not to launch it. Others called the AI "cringeworthy."
Ethics specialists were told to step down as the company rushed Bard to the market, the sources told Bloomberg. Meredith Whittaker, a former manager at the company, said, "AI ethics has taken a back seat" to profit and growth, and two other workers said ethics reviews are almost entirely optional.
Products that previously had to clear a 99% threshold for metrics such as 'fairness' now only had to measure up to "80, 85%, or something" in order to launch, AI governance head Jen Gennai reportedly told employees.
Earlier this month two whistleblowers revealed that they had tried to block Bard's release, warning the AI was prone to "inaccurate and dangerous statements," only to have their concerns squashed as Gennai recast the 'product launch' as an "experiment."
Introduced as a competitor to OpenAI's blockbuster ChatGPT last month, Bard was supposed to be the leading edge of Google's transformation of its search business. When ChatGPT launched Google did not have its own generative AI integrated into its products in a way that customers could actually use. The company allegedly panicked, issuing a 'code red' and embracing risk, starting in December, the employees told Bloomberg.
Google has denied demoting ethics. "We are continuing to invest in the teams that work on applying our AI principles to our technology," spokesperson Brian Gabriel told Bloomberg.
The company laid off three members of its 'responsible AI' team in January, announcing plans to roll out more than 20 AI-powered products this year. Meanwhile, those remaining in the AI ethics team are now "disempowered and demoralized," according to Bloomberg.
You can share this story on social media: