Google chief warns of potential AI dangers
Sundar Pichai says society must 'adapt' to artificial intelligence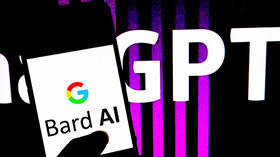 Artificial Intelligence (AI) will soon impact "every product of every company," Google and Alphabet CEO Sundar Pichai said on Sunday, warning of the dangers that the technology poses for employment sectors and the distribution of misinformation.
"We need to adapt as a society for it," Pichai told American television network CBS. He added that job growth and sustainability will be disrupted for industries that rely on what he referred to as "knowledge workers," such as writers, accountants – and even the engineers who designed the software.
Google launched its AI 'chatbot', Bard, last month. This followed the debut of OpenAI's ChatGPT online in 2022, which received significant publicity for its ability to compose academic papers and write intricate and detailed passages of prose with human-like language, among other utilities.
However AI chatbots – and specifically ChatGPT – have had their critics. It was banned in Italy earlier this month over potential privacy concerns, while tech giants Elon Musk and Steve Wozniak, along with dozens of academics, called for AI experiments to be paused. The technology should be "rigorously audited and overseen by independent outside experts," an open letter co-signed by Musk and Wozniak read.
Pichai, too, cautioned of the potential risks of AI. The spread of fake news, videos and images will be "much bigger," he said, and "could cause harm." Google had previously published a document online calling for regulation of the technology to ensure that it "align[s] with human values including morality."
He elaborated to CBS: "It's not for a company to decide. This is why I think the development of this needs to include not just engineers but social scientists, ethicists, philosophers, and so on." According to Pichai, there remains a "black box" in artificial intelligence that we "don't fully understand."
Both ChatGPT and Bard have not been without their errors. Bard, when asked to explain inflation to CBS' Scott Pelley, recommended that he read five books to better understand the topic – none of which existed. ChatGPT has also failed at some basic tasks, and has been reported to have given plausible-sounding but entirely incorrect answers to queries.
You can share this story on social media: