Dozens crushed to death at charity event
The stampede in the Yemeni capital took place during the Muslim holiday of Ramadan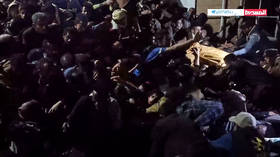 At least 78 people have been killed in a stampede at a charity event in the Yemeni capital, Sanaa, on Wednesday. The country has been ravaged by more than eight years of war between Saudi-backed Sunni and Iran-backed Shiite Houthi forces, in a conflict recognized by the UN as one of the world's largest humanitarian crises.
Local businessmen were reportedly handing out gifts at a school to mark the Muslim holy month of Ramadan when the crush began, according to the Houthi-controlled Interior Ministry, which blamed Saudi Arabia for the tragedy. It further accused Riyadh of triggering a severe humanitarian crisis by imposing a blockade on the war-torn country.
According to AFP, citing a Houthi security official, more than 300 people sustained injuries in the incident. Yemen's Al Masirah TV channel reported that 13 people were in critical condition.
Eyewitnesses told the media that Houthi militiamen had tried to control the crowd, including by firing shots in the air, although their efforts proved ineffective.
The Shiite movement that controls large swathes of Yemen accused event organizers of holding a "random distribution" of funds without due coordination with the authorities.
According to the Interior Ministry, two businessmen have been arrested and an investigation has been launched. Officials have also announced that they will pay compensations to the bereaved families and those injured in the stampede.
Commenting on the broader context of the incident, Mohamed Ali al-Houthi, head of the Houthi Supreme Revolutionary Committee, wrote in a series of tweets that the "countries of the US-British-Saudi-Emirati aggression and its allies" are responsible for the tragedy, and for the "bitter reality that the Yemeni people live in because of the aggression and blockade."
He also called for the blockade of the country to be lifted.
According to the UN, over 24 million people in Yemen – 80% of the population – are in need of humanitarian aid and protection. It is estimated that almost 400,000 people have died as a direct or indirect result of the war in Yemen since 2015, with more than half being victims of hunger and inadequate healthcare.
You can share this story on social media: