Saudis arrive for Yemen peace talks
An almost nine-year conflict has led to one of the world's worst humanitarian crises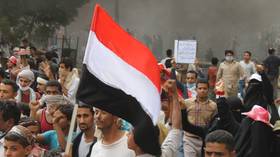 Delegates representing Saudi Arabia and Oman arrived in the Yemeni capital, Sanaa, on Saturday to discuss a permanent ceasefire to end the civil war which has raged in the country since 2014.
The fighting is being waged primarily between the Saudi-backed Yemeni government and the Houthi rebels – both of whom claim to be the country's official leaders – along with their various allies.
The Houthi-operated Saba news agency reported on Sunday that the Saudi and Omani envoys will attempt to negotiate with Houthi officials to end the fighting, bring to a close Riyadh's military involvement, and lift "the siege with all its repercussions."
Saba also said the talks are aimed at restoring the rights of Yemeni citizens, including the payment of state salaries with revenue derived from oil and gas. The lifting of a Saudi-imposed blockade on Yemeni ports will also be discussed, as well as the establishment of a timeline for foreign military forces to leave the country, Reuters reported.
Omani officials are mediating the talks, which come alongside UN efforts to establish peace in the region. The discussions follow Saudi Arabia and Iran's decision to re-establish diplomatic ties, at talks recently brokered by China.
The Houthis are an Iran-aligned Shia militant group which seized Sanaa in 2014, as well as much of the north of the country. The previous, internationally recognized government fled south, and later into exile in Saudi Arabia. In 2015, Riyadh led a coalition of nine countries from West Asia and North Africa to intervene in the civil war on behalf of the ousted government, launching bombing campaigns and later a naval blockade.
Saudi Arabia has accused Iran of supplying weapons to the Houthis. Tehran denies this, but admits backing the rebel cause.
The conflict has been described as a 'proxy war' between Iran and Saudi Arabia. The UN has estimated that by the end of 2021 more than 377,000 people had died during the conflict, either by direct or indirect means. Around 80% of Yemen's population is thought to be dependent on foreign aid. The civil war has led to what has been described as one of the world's worst humanitarian disasters.
Earlier this month, Saudi Arabia agreed to release 13 Houthi prisoners in exchange for one Saudi captive. Further prisoner swaps are expected.
"The detainees released today from Saudi prisons are part of the deal agreed via the United Nations, and next Thursday the deal will be fully implemented," Houthi official Abdul-Qader el-Murtaza told Reuters on Saturday.
You can share this story on social media: