North Korea touts new spy satellite
Pyongyang says it will be ready for launch by the end of the month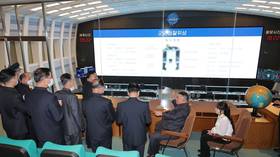 North Korea says it has completed work on its first reconnaissance satellite and is preparing for its maiden launch, stressing the need to bolster its military capabilities amid continued threats from the US and South Korea.
After visiting the country's space development agency one day prior, North Korean leader Kim Jong-un unveiled the new military satellite on Tuesday, saying the tech would enhance Pyongyang's "war deterrence" given Washington and Seoul's "anti-DPRK military posture."
"Under these circumstances, it is only natural for our state to develop military deterrence commensurate with the current… security environment, and acquiring and operating military reconnaissance means is essential in enhancing our military effectiveness," Kim said, as cited by the state-run Korean Central News Agency (KCNA).
The leader said successfully launching the spy satellite – which he simply dubbed "military reconnaissance satellite No. 1" – is currently the "most crucial primary task" for the military, noting that its first voyage into space is scheduled for later this month.
Last December, Kim said North Korea had carried out an "important final-stage" test for putting a recon satellite into orbit, suggesting the military has made gradual progress on the new technology.
Pyongyang has carried out a flurry of weapons tests over the last year in response to joint US-South Korean military drills, which it considers rehearsal for an invasion, and touted several new weapons in recent months. In March, the DPRK showed off an underwater drone which it said was capable of producing "radioactive tsunamis," while last week it claimed to have successfully tested its new Hwasong-18 intercontinental ballistic missile (ICBM).
Washington and Seoul have repeatedly condemned the North's weapons tests, but have refused to scale back military operations around the Korean Peninsula, insisting the live-fire war drills are purely defensive in nature.
You can share this story on social media: