Russia 'winning' fight against Ukraine – retired US Army colonel
Kiev doesn't have enough resources for a successful counteroffensive, Douglas Macgregor has claimed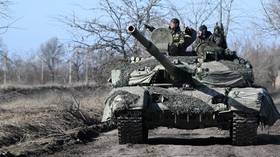 Russia is defeating Ukraine and the recent leaks of US classified documents will not change the outcome on the battlefield, retired US Army colonel and former Pentagon adviser Douglas Macgregor has said.
"I think the Russians are winning anyway, and the Russians know the truth," Macgregor said in a video uploaded to his YouTube channel on Sunday.
"The Ukrainians themselves know the truth. They're in a very terrible position right now. We've been pushing them to launch this massive offensive in the spring," Macgregor argued.
"And, frankly, [Ukrainians] don't have the forces, they don't have the resources to make a difference at this point. They really need to fall back and defend against the Russians, who are ultimately going to attack in May and June."
The documents dumped online sometime this year and recently discovered by news organizations include US intelligence dispatches and documents purported to be the Pentagon's daily reports on the Ukraine-Russia conflict.
According to a file dated February 28, Western countries have been training and equipping nine Ukrainian brigades for a counteroffensive slated for April 30. The same document said that three more brigades were to be formed "internally" in Ukraine.
Ukrainian officials have said in the past that offensive operations would depend on the supply of tanks and other heavy weapons from the West. Prime Minister Denis Shmigal confirmed on Monday that the counteroffensive would begin "in the nearest future." He rejected the idea that Kiev was being pressured from abroad regarding the timetable.
You can share this story on social media: