French minister's Playboy issue sells out
Marlene Schiappa's non-nude appearance in the magazine had spurred criticism from the country's political ecosystem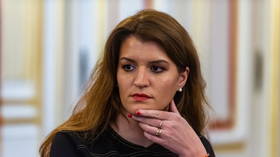 The latest issue of the French edition of Playboy, which features the country's citizenship minister Marlene Schiappa on its cover, sold out its initial run of 100,000 copies just hours after hitting newsstands on Monday, its publisher Jean-Christophe Florentin told media.
The magazine typically sells just 30,000 issues a month, Florentin told FranceInfo. An additional 60,000 are going to the presses to satisfy public demand, he added.
The interest in this particular issue is being put down to a wide-ranging interview the minister gives in the magazine regarding women's and LGBTQ rights. Its popularity is also considered a public riposte to opposition from Paris' political infrastructure to her appearance in the infamous publication – including from the country's Prime Minister Elisabeth Borne.
Borne personally called Schiappa to say that her appearance in Playboy was "not at all appropriate, even more so in the current period," according to a report in Le Parisien earlier this month. Borne was referring to the ongoing unrest in France due to unpopular pension-reform plans imposed by the government, which have led to months of protests.
Schiappa defended herself on social media, however: "The right of women to have control of their bodies, that's everywhere and all the time. In France, women are free – with all due respect to the detractors and hypocrites."
The 40-year-old is fully-clothed in the pictorial. In her political career, she has previously pushed anti-sexual-harassment legislation through the EU nation's parliament, which included introducing on-the-spot fines for cat-calling or wolf-whistling.
In 2017, she became the country's first ever Secretary of State for Gender Equality. During this spell in office she was prominent in calling for an investigation into the crimes of convicted sex-offender Jeffrey Epstein. In 2019, Schiappa also proposed that foreign nationals convicted of sexual crimes in France be deported. In 2020, she was appointed as Minister Delegate for Citizenship.
Playboy is considered by many to be one of the most controversial publications of the past several decades. Despite this, numerous prominent political figures have appeared – also fully clothed – in its pages. In 2015, former US Vice President Dick Cheney gave an extended interview to the magazine during which he fiercely criticized the administration of then-President Barack Obama.
You can share this story on social media: