Lula's China trip proves Latin America is no longer the 'backyard' of the US
The Brazilian president has asserted his country's role as a player in its own right in the new multipolar world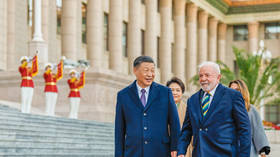 Brazilian President Luiz Inacio Lula da Silva has just returned from his highly anticipated and successful trip to China, generating optimism and enthusiasm for an enhanced role for Latin America as it emerges from the shadow of the US.
Chinese President Xi Jinping's welcoming ceremony was the first sign the trip would be a success for everyone involved. As he and Lula walked down the red carpet, China's military band played a rendition of 'Novo Tempo', an '80s Brazilian song associated with the protests against the US-backed dictatorships of that time.
Behind closed doors, 15 bilateral agreements and memoranda of understanding were signed, including investment deals, research and development plans, food standards, state news agencies, technology transfers, and cooperation on building the seventh China-Brazil Earth Resources Satellite (CBERS). The meeting built upon years of strategic partnership. China displaced the US as Brazil's largest trade partner in 2009, and the event was about deepening that process.
However, the most interesting facet of the visit was the tone of the public statements by both leaders, as it went beyond diplomatic niceties and showed a clear commitment from both countries in taking on a leadership role that will challenge the years of Washington's unipolar dominance.
"I wonder every night why all countries are forced to do their trade backed by the dollar. Why can't we do trade backed by our currency?" said Lula at an event in Shanghai. The conflict in Ukraine was also on the agenda, and Lula made it clear that the US funneling billions of dollars worth of weapons to the Kiev regime was escalating, rather than calming, the conflict. He commented, "It is necessary that the United States stop incentivizing the war and begin to speak about peace. The European Union needs to start talking about peace."
Reasserting Latin America's own interests
This visit marks the beginning of a much closer relationship between Latin America and those challenging US dominance on the international stage. Once Lula returns, the next big item on the agenda will be a visit from Russian Foreign Minister Sergey Lavrov, who will be embarking on a Latin America tour in which he'll also visit Venezuela, Cuba, and Nicaragua.
Lavrov's visits will be an opportunity to discuss areas of common interest for Russia and Latin America, such as trade, investment, energy, and defense. He will also attempt to strengthen cultural ties at a time when Washington is promoting xenophobia against Russians and Russian culture globally.
The success of Lula's China trip will clearly put an extra spring in the step of the Latin American governments that will be receiving Russia's official delegation this week. The win-win cooperation possible with China and Russia stands in clear contrast to the arrogant finger-wagging and interventionism on offer from the US.
However, Latin America is not a passive participant in the process of building a multipolar world. The region is taking on leading roles in the process. Former Brazilian president and Lula ally, Dilma Rousseff – who is also the victim of a US-backed coup – is starting her new role as chief of the BRICS development bank in Shanghai, a crucial coordinating role for Brazil, China, Russia, India, and South Africa, as well as for a possible 'BRICS plus' expansion to include more emerging economies in the Global South.
Backlash from the US
Washington has tried to court Lula ever since he was elected president. Brazil is the largest economy in Latin America, so it would be unwise not to do so. The State Department has issued official condemnations of the right-wing rioters that attacked the Brazilian congress with the aim of preventing Lula from assuming office, its statements in support of 'Brazilian democracy' was perhaps an attempt to communicate that the US would not work to undermine Lula's presidency, as they had done against other leftist presidents from Bolivia to Venezuela.
For that reason, Washington has not formally responded to Lula's China trip and upcoming official meeting with Lavrov. Nevertheless, the cottage industry of pro-US 'analysts' and 'commentators' have been weighing in and setting a narrative that Lula was scoring an "own goal" by reaching out to China and Russia.
The Argentina-based website Infobae, one of the largest right-wing digital media outlets in the region, ran a piece entitled 'Lula's trip to China risks becoming a goal against Brazil'. The author questions China's intentions by saying, "Brazil, one of the richest countries in the world in terms of raw materials and natural resources, has everything to be a power on its own, without the help of any other foreign power. But to do so, it must overcome the corruption of its politicians and submit its management to strict scrutiny."
The same outlets that decry the nationalization of industry and celebrate free trade deals with the US have suddenly taken a hardline "third-worldist" and isolationist turn.
Others are warning Brazil of drawing the ire of Washington. Oliver Stuenkel, who writes for Americas Quarterly – an outlet funded by Western oil corporations – recently said, "The more Lula talks about Ukraine during this visit in China, which in Western perception is not a neutral actor, the greater the risk that Brazil will be seen in Europe and the United States as an actor closer to Russia than to them."
Perhaps being "an actor closer to Russia" and closer to China will prove to be a more fruitful path for Latin America. Being an actor closer to Washington has resulted in unequal trade deals, coups, invasions, and much more. Lula's China trip shows that another, more equal relationship is possible. Lavrov's Latin America tour will be a fantastic opportunity for Latin America to build on this and elevate itself onto the global stage.
The statements, views and opinions expressed in this column are solely those of the author and do not necessarily represent those of RT.
You can share this story on social media: