Brazil calls for 'move away' from dollar
President Lula da Silva has kicked off his first state visit to China with a BRICS bank event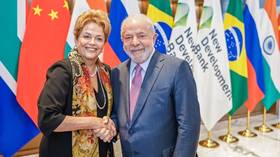 Brazilian President Luiz Inacio Lula da Silva has stated that developing nations should move away from the US dollar in favor of their own currencies in order to push back against American dominance over the global financial system.
Speaking in Shanghai on Thursday during an official visit to China, Lula said the BRICS group – comprising Brazil, Russia, India, China and South Africa – should look for an alternative currency to the dollar for trade.
"Every night I ask myself why all countries have to base their trade on the dollar. Why can't we do trade based on our own currencies?" he said. "Who was it that decided that the dollar was the currency after the disappearance of the gold standard?"
The leftist leader went on to lament that "everyone depends on just one currency," referring to the dollar, and proposed "a currency to finance trade relations between Brazil and China, between Brazil and other countries."
Lula kicked off his trip to China with an event to mark the appointment of former Brazilian President Dilma Rousseff as the head of the New Development Bank, also known as the 'BRICS bank,' which he said could free emerging economies "from submission to traditional financial institutions, which want to govern us."
Brazilian Finance Minister Fernando Haddad also traveled with the president to China, where he told reporters that Brazil would aim to create trade mechanisms for developing countries to bypass the use of the dollar.
"The advantage is to avoid the straitjacket imposed by necessarily having trade operations settled in a currency of a country not involved in the transaction," he said.
Lula's visit to China comes as Beijing increasingly promotes the use of its own currency, the renminbi, to settle international transactions. Last month, Russia said it had adopted the yuan as one of its primary reserve currencies amid a massive sanctions campaign linked to the conflict in Ukraine, highlighting a gradual shift away from the Western financial system by some major powers.
Trade between China and Brazil has seen a significant boost over the last decade, with more than $150 billion in business recorded last year. Chinese firms have bought up large amounts of minerals and agricultural goods in the South American country, and invested in Brazilian infrastructure.
The Brazilian president arrived in China on Wednesday night and will remain there until April 15. After his speech in Shanghai, Lula headed off to Beijing, where he is set to meet with President Xi Jinping on Friday. The two leaders are expected to focus on issues related to trade and foreign policy – such as China's Belt and Road Initiative, which aims to develop roads, highways and other infrastructure in foreign countries – according to the Financial Times.
You can share this story on social media: