Russian central bank reveals how it braced for Western dollar grab
Moscow stockpiled gold, yuan and foreign currency in cash to offset Western sanctions, the regulator has revealed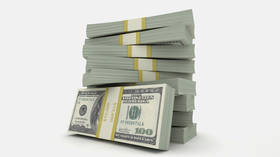 The Bank of Russia had been preparing for an escalation of Western sanctions since 2014 and was beefing up additional funds as a hedge against future restrictions on its foreign exchange reserves, the regulator revealed on Wednesday.
Amid "increasing geopolitical risks" the central bank ramped up investments in assets "that cannot be blocked by unfriendly nations" and transferred part of its reserves to gold, Chinese yuan and foreign currency in cash, the regulator announced in its annual report.
The central bank managed to stash billions of imported dollars "in volumes limited by logistics capabilities," the report said without specifying the amount of accumulated funds. Alternative reserves in dollars and gold bars have been stockpiled in the vaults of the Bank of Russia.
"This safety cushion was created in the form of alternative reserves – less liquid and convenient in everyday life, but more reliable in the face of a tough geopolitical scenario," the regulator explained.
It was impossible to abandon reserves in dollars and euros, as these currencies were used for settlements in international trade as well as in the domestic financial sector, the central bank added.
"Therefore the structure of foreign exchange reserves needed to take into account the needs of citizens and businesses," the regulator concluded.
The central bank could have "unloaded" part of this money to banks during the first wave of Western sanctions to stabilize Russia's banking system and offset the withdrawal of dollars and euros by "panicking depositors," the chief analyst from Ingosstrakh-Investment, Viktor Tunyov, believes.
According to some estimates, last year almost $20 billion was withdrawn by depositors from the country's second largest bank, VTB, alone.
In 2022, Russia was hit by sweeping Western economic sanctions, which included measures to cut the Russian central bank off from the international financial system, while around $300 billion of the bank's foreign reserves were frozen. Moscow has criticized the seizure of its assets, saying it constitutes theft.
For more stories on economy & finance visit RT's business section
You can share this story on social media: