US lawmakers urge probe into military aid to Israel
A group of top progressive Democrats is urging President Joe Biden to "shift" US policy on Israel, citing escalating violence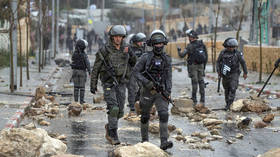 A group of 14 top Democratic members of the US Congress has penned an open letter to President Joe Biden, urging him to re-examine Washington's enduring support of Israel. Specifically, the group called for a probe into whether US weapons were used in violence against Palestinians, and for assurances that "US taxpayer funds do not support projects in illegal settlements."
The open letter was published on Thursday, spearheaded by Senator Bernie Sanders (I-VT) and Representative Jamaal Bowman (D-NY), and signed by 12 other prominent Democratic Party lawmakers. The group went into detail about the ongoing tensions in Israel.
"Israeli forces and settlers have killed over 85 Palestinians in 2023, including 16 children. At least 14 Israelis have been killed, including two children," the letter read. The uptick in violence comes after the previous year became "the deadliest for Palestinians in the occupied West Bank since 2004" and has also seen the "Israeli military's killings of two American citizens," the group noted.
The lawmakers also blasted the controversial judicial reform being undertaken by the Netanyahu government. The legislation, criticized as a power grab attempt by the prime minister, ended up being shelved after weeks of violent unrest in the country.
This Israeli government's anti-democratic mission to dismantle the rule of law is a threat to Israelis and Palestinians alike. In addition to explicitly hateful, anti-Palestinian policies, this government is attempting to destroy the independent Israeli judiciary. This move would threaten the rights of all citizens of Israel, enable more corruption by Prime Ministers, and open the path towards further annexation of Palestinian lands.
The group also stressed that the continuing Israeli occupation of the West Bank, as well as the settlement-building policies of its government, not only constitute a "violation of the international law," but also contradict Washington's repeated advice on these sensitive matters.
"Israeli legal experts deem the government's decision to transfer most governing authority in the occupied West Bank from the military to a civilian minister, Finance Minister Smotrich, to be a form of annexation – a move your administration has warned against," the letter reads.
To tackle the piling issues, the legislators urged Biden to "shift" US policy toward Israel. Namely, the group urged the administration to "ensure US taxpayer funds do not support projects in illegal settlements," as well as to launch a probe into the use of weaponry of American origin by the Israeli military to establish whether it had been used to "commit or support gross violations of human rights."
The lawmakers also urged Biden to tighten "end-use monitoring and financial tracking" of military aid to the country, asking him to respond with a "detailed plan" on how exactly the administration would plan to achieve such goals.
You can share this story on social media: