Trump denied in bid to delay trial over Democrat donor issue
Former US president asked for a delay after it transpired plaintiff Jean Carroll's defense had been funded by a Democratic donor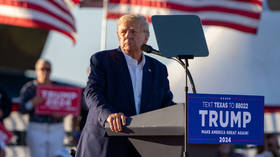 A federal judge has refused to postpone Donald Trump's trial involving a lawsuit by former Elle magazine columnist E. Jean Carroll, who is accusing the former US President of rape in the mid-1990s. The Trump defense asked for deferment after finding out that a major Democratic Party donor had covered some of Carroll's legal fees.
Judge Lewis Kaplan did, however, allow Trump's attorneys on Thursday to gather more information as to who exactly is picking up the tab for the plaintiff. They will have the opportunity to question Carroll over why she withheld facts about the source of money propping up her legal team in October of last year.
Trump's attorney Alina Habba had previously requested that the trial, scheduled to start on April 25, be deferred by one month.
This, in turn, was prompted by a revelation earlier this week that "at some point, [Carroll's] counsel secured additional funding from a nonprofit organization to offset certain expenses and legal fees," Trump's attorneys stated.
They asserted that the backer is billionaire Reid Hoffman, the founder of LinkedIn, who is funding a nonprofit named American Future Republic.
In her letter to Judge Kaplan, Habba wrote that the new facts raise "significant questions as to Plaintiff's credibility, as well as her motive for commencing and/or continuing the instant action."
In her 2019 memoir, Carroll for the first time publicly alleged that Trump had raped her sometime between late 1995 and early 1996 in a dressing room of the Bergdorf Goodman department store in New York.
The then-public figure, who would go on to become the 45th US president, has consistently denied those claims, insisting that they are politically motivated.
Last Tuesday, a court in New York arrested Trump on 34 criminal charges in a separate case. The firebrand Republican is accused of falsifying business records with respect to the $130,000 of 'hush money' allegedly paid to porn actress Stormy Daniels by Trump's then-lawyer, Michael Cohen. This was supposedly done ahead of the 2016 presidential election.
Trump pleaded not guilty on all counts, dismissing the accusations as purely political.
He has become the first president in US history to face criminal prosecution.
You can share this story on social media: