US Republicans seek to defund anti-Trump DA
Legislation aims to cut off federal funds from the New York district attorney who is prosecuting the ex-president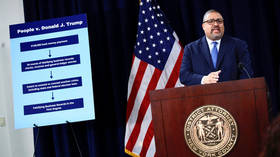 US House Republicans have targeted Alvin Bragg, the Manhattan district attorney who is prosecuting former president Donald Trump, with legislation that would strip his office of federal funding for allegedly prioritizing politics over keeping New Yorkers safe.
GOP lawmakers on Thursday introduced two bills in response to last week's arrest of Trump on charges that he falsified business records to cover up violations of election laws during his successful 2016 presidential campaign. One of the bills accuses Bragg of failing to address the city's crime crisis. It calls for cutting off federal funds and requiring the DA's office to give back any money received from Washington since January 2022. The second bill prohibits federal funds from being used to prosecute the US president, the vice president or a presidential candidate.
"District Attorney Alvin Bragg ran on a campaign pledge to indict President Trump," US Representative Andy Biggs told the Daily Caller, which obtained the bills earlier on Thursday. "Bragg took the unprecedented action of converting minor business misdemeanors to 34 individual felonies in an attempt to put President Trump behind bars and humiliate him and his supporters."
Five other House Republicans co-sponsored the bills introduced by Biggs. The legislation marks the latest salvo between GOP lawmakers and the DA who's prosecuting Trump, the frontrunning candidate for the Republican Party's 2024 presidential nomination. The House Judiciary Committee, on which Biggs serves, last week issued a subpoena to former prosecutor Mark Pomerantz, who was involved in New York's Trump investigation.
Bragg responded on Tuesday by filing a lawsuit against House Judiciary Committee Chairman Jim Jordan, seeking to block Congress from issuing subpoenas to him or to any current or former employees of his office. He has accused Republicans of a "brazen and unconstitutional attack" on a state criminal prosecution.
Jordan pushed back on Tuesday, saying, "First, they indict a president for no crime. Then they sue to block congressional oversight when we ask questions about the federal funds they say they used to do it."
Trump surrendered for arrest in Manhattan last week and pleaded not guilty to all charges against him. He became the first current or former president to be criminally charged in US history.
"What they're doing is weaponizing the system, and there's never been anything like it," Trump said on Tuesday in a Fox News interview. "It's all disinformation."
You can share this story on social media: