US 'smart' bombs miss Russian targets – Pentagon leak
Leaked files indicate that American-made JDAM munitions are being successfully jammed in Ukraine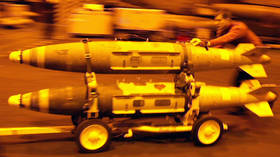 Pentagon officials have reportedly expressed concern that US-produced smart bombs provided to Ukraine are being electronically jammed by Russian forces, causing them to miss their targets.
The precision-guided bombs, which are among the increasingly advanced weaponry that Washington has been providing to Kiev, have been rendered "useless" by Russian jamming tactics, Politico reported on Wednesday, citing leaked Pentagon documents. The US media outlet added that an unidentified Pentagon official had confirmed the authenticity of the documents.
The US has given Ukraine the long-range version of its Joint Direct Attack Munitions (JDAMs), which can be launched by bombers or fighter jets and guided to targets more than 45 miles (72 kilometers) away. They are touted as being accurate to within ten meters.
However, Politico said, the JDAMs have missed their targets on multiple occasions. In other cases they failed to detonate because of a separate technical glitch, though Ukrainian forces have come up with a fix to ensure that the bombs arm correctly, according to the documents.
"The news adds to an increasingly bleak picture of the state of Ukraine's military that has emerged from a trove of top-secret intelligence documents that leaked on social media and came to light over the past week," Politico said.
The leaked documents alleged that Russia was using GPS jamming and other tactics to interfere with the JDAMs' targeting process. Such tactics also have been employed against other American weapons, including guided rockets, causing them to miss their targets.
Washington sent Ukraine nearly $77 billion in aid, including $46.6 billion of weaponry and other military assistance, between January 2022 and January 2023, according to the Council on Foreign Relations. US lawmakers have approved $113 billion in Ukraine aid since Russia's military operation against Kiev began last year.
The FBI on Thursday arrested a suspect in the leaking of classified Pentagon documents, identified by the media as a 21-year-old member of the Massachusetts Air National Guard named Jack Teixeira. The leaked files purported to reveal secrets regarding US intelligence gathering on the Russia-Ukraine conflict and Washington's spying on allies.
You can share this story on social media: