EU nation to destroy 1,500-tons of Ukrainian grain
Slovakia has found a "dangerous concentration" of a banned pesticide in the agricultural imports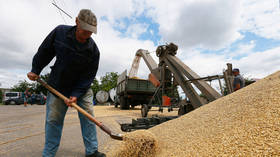 Slovakia has discovered a 1,500-ton shipment of Ukrainian grain, tainted with chlorpyrifos, an organophosphate pesticide subject to a EU-wide ban. The whole shipment will be destroyed, the country's agriculture minister, Samuel Vlcan, announced on Thursday.
The minister first sounded the alarm over the issue on the previous day, revealing that "three independent certified laboratories" had discovered "traces" of pesticides in a major haul of Ukrainian grain that was being transited through the country. The issue affected a 1,500-ton shipment, according to Vlcan – the equivalent of some 60 truckloads of produce on average. The tainted grain was discovered before the recently-introduced measures to protect the local market, which involve the mandatory sealing of transit trucks.
Vlcan further elaborated on the matter on Thursday, announcing that the contamination of the grain turned out to be so severe the entire shipment had to be burned.
"Unfortunately, it has been confirmed that it is a dangerous concentration, the substance is chlorpyrifos, which is banned in the European Union," the minister told JOJ 24 broadcaster, pledging to ramp up reviewing products containing grain of Ukrainian origins as well.
The Ukrainian grain has been a spotlight in the media amid the ongoing conflict between Moscow and Kiev. Brussels permitted duty-free agricultural imports from the major grain-producing nation last year, purportedly to help it to reach its customers in Africa and the Middle East. A vast part of exported grain, however, ended up stuck in the EU, particularly in the eastern member-states of the bloc.
Cheap grain flooding the markets has already prompted protests by local farmers, with Bulgarian and Romanian farmers, for instance, blocking roads across their countries last week. The farmers are blaming a drop in prices for domestically-produced grain on the inflow of Ukrainian produce.
The duty-free exports, combined with difficulties in selling the grain further, have sent prices plummeting even further. The farmers now demand not extending the duty-free status of Ukrainian agricultural produce without additional regulations, such as quotas, import deposit fees and anti-dumping rules to control the inflow.
You can share this story on social media: