Eastern European farmers protest over Ukrainian grain
Cheaper imports are undercutting domestic agriculture prices, causing financial distress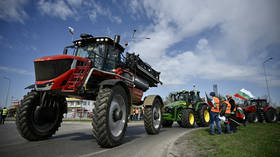 Thousands of Bulgarian and Romanian farmers blocked border crossings into Ukraine on Friday in protest against cheap Ukrainian grain that has been flooding their markets, Bulgarian National Radio reported on Friday.
Brussels permitted duty-free agricultural imports from the war-torn nation last year to help Kiev reach its markets in Africa and the Middle East. However, much of the grain has been stuck in Eastern Europe.
The National Association of Grain Producers started a four-hour protest in the Bulgarian towns of Ruse and Kardam. The rally has been coordinated with agricultural organizations in Romania, which are staging walkouts in a number of locations across the country.
Farmers throughout Eastern Europe are blaming a drop in prices for domestic grain on the inflow of huge amounts of Ukrainian grain that was initially expected to go to Africa and the Middle East.
Agricultural produce from Ukraine became cheaper, as it was harder to sell further afield. The EU also lifted duties on Ukraine's agricultural exports, sending prices plummeting, and forcing local producers to struggle in the face of unfair competition.
According to the head of the Bulgarian Association of Grain Producers, Ilia Prodanov, some 3.5 million tons of Bulgarian wheat and over a million tons of sunflower seeds are sitting in warehouses at the moment, as the nation's farmers cannot sell their crops and are suffering massive losses.
Romanian and Bulgarian farmers are urging Brussels not to extend the duty-free status of Ukrainian agricultural goods without regulations such as quotas, anti-dumping duties, and import deposit fees to limit excessive inflows.
According to the demonstrators, removing import tariffs and agricultural trade barriers with Ukraine should have been a joint EU commitment, but member states geographically close to the country have so far seen only a negative impact from that support.
Last week, Bulgarian farmers blocked roads in the northeastern part of the country, demanding that an EU regulation exempting Ukrainian grain from import duties not be extended to Bulgaria.
On March 30, the European Commission said it had approved an aid package worth €56 million ($61 million) to support farmers in front-line countries who have to deal with the consequences of a large amount of agricultural and food products from Ukraine coming into the bloc.
For more stories on economy & finance visit RT's business section
You can share this story on social media: