US abortion battle goes to Supreme Court
The Justice Department wants to keep mail order abortion pills legal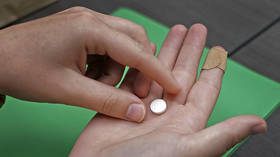 The US Department of Justice will go to the Supreme Court in a bid to overturn a lower court's ruling that restricted the availability of abortion pills. The legal showdown began when pro-life groups in Texas attempted to ban chemical abortion nationwide.
The New Orleans-based 5th US Circuit Court of Appeals issued a ruling on Wednesday partially blocking a decision by Texas District Judge Matthew Kacsmaryk to temporarily suspend the US Food and Drug Administration's approval of mifepristone, a drug commonly used to terminate pregnancy.
The 5th Circuit's ruling allowed the FDA's authorization to remain in place, but mandated that mifepristone only be dispensed in person by qualified physicians, and only during the first seven weeks of pregnancy. The drug was previously available by mail during the first ten weeks of pregnancy.
Responding on Thursday, Attorney General Merrick Garland announced that the Justice Department "will be seeking emergency relief from the Supreme Court to defend the FDA's scientific judgment and protect Americans' access to safe and effective reproductive care."
Mifepristone, which works by blocking the pregnancy hormone progesterone, is used in conjunction with a second pill, misoprostol, which causes the uterus to expel the fetus. This two-drug regimen is used in around half of all abortions carried out in the US.
The legal drama over the drug began in Texas last week, when Kacsmaryk sided with a group of anti-abortion activists and ruled that the FDA did not perform adequate safety checks when it approved mifepristone for public use in 2000. Kacsmaryk stated that there was evidence the agency was put under "significant political pressure" to approve the drug.
Kacsmaryk issued a temporary injunction, which the Justice Department immediately appealed, leading to Wednesday's partial block by the Louisiana-based 5th Circuit.
Further confounding the situation, a judge in Washington last week declared mifepristone "safe and effective" and ordered the FDA not to restrict its availability in 17 Democrat-run states.
A Supreme Court decision, which Axios reported could come as early as this week, would trump all of these lower court orders. Starting in 1973, access to abortion was guaranteed across the US by the court's ruling in the landmark case of Roe v. Wade. However, that ruling was stricken down last June, prompting conservative states to impose abortion bans and liberal states to hurriedly pass legislation legalizing the practice. In both red and blue states, these decisions have been met with a flurry of legal challenges.
You can share this story on social media: