CIA director concedes US power is waning
Bill Burns says Washington's position as the "big kid on the geopolitical block" isn't guaranteed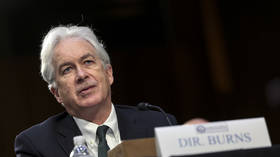 The dominant global role of the US can no longer be guaranteed as the country is witnessing a time of change "that comes along a couple of times a century," CIA Director Bill Burns has claimed.
Speaking at the Baker Institute earlier this week, Burns said that although Washington "still has a better hand to play than any of our rivals," it is "no longer the only big kid on the geopolitical block and our position at the head of the table isn't guaranteed."
The CIA chief pointed to growing ties between China and Russia, which he argued will present a "formidable challenge" for his agency for years to come. According to Burns, Beijing is "not content to only have a seat at the table; it wants to run the table," while Russia is seeking to "upend the table altogether."
Burns, who served as the US ambassador to Moscow under George W. Bush, condemned Russia's military operation in Ukraine, calling it an act of "brutish aggression."
He claimed the CIA has provided "good intelligence" that has "helped the Ukrainians defend themselves" and cemented "a strong coalition in support of Ukraine."
Burns added that Kiev's long-anticipated spring offensive would feature "strong material and intelligence support from the US and our allies."
The spy chief claimed that Russian President Vladimir Putin is "not serious about negotiations" on a peaceful resolution to the conflict, and suggested that only Ukrainian progress on the battlefield was "likely to shape prospects for diplomacy."
Russia has repeatedly stated that it is open to peace talks and has blamed Kiev and its Western allies for blocking negotiations. Ukraine has placed a legal ban on any talks with Russia as it seeks to defeat its opponent on the battlefield.
Regarding China, Burns insisted that Beijing remains the CIA's "biggest long-term priority." He noted that in the last few years, the intelligence agency has doubled the resources it focuses on China, including hiring and training Mandarin speakers and stepping up efforts to compete with Beijing on the world stage.
"Managing a crucial and increasingly adversarial relationship with China will be the most significant test for American policy makers for decades to come," the US official said, arguing that the risk of a conflict over Taiwan will continue to grow.
You can share this story on social media: