Musk claims Twitter HQ landlord rejected homeless shelter plan
The property owners torpedoed the idea to use vacant office space to house vagrants, the billionaire claims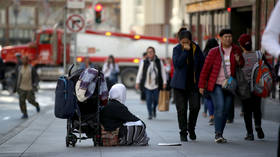 Twitter owner Elon Musk has blamed his landlord for shooting down a proposal to use vacant office space at the social media company's headquarters in San Francisco to help ease the city's homeless crisis.
"We tried to turn it into a homeless shelter," Musk said on Tuesday night in a BBC News interview. "They (the owners) won't let us." He added, "We're only using one of the buildings, so the other building could be a homeless shelter. We would like to do it right now . . . . If the building owner lets us, we'll do it."
Since completing his $44 billion takeover of Twitter last October, Musk has reduced the company's workforce by more than 80%, to about 1,500 employees. The cost-cutting has left much of the space in the 463,000-square-foot headquarters vacant. The property is owned by SRI Nine Market Square LLC, an affiliate of Shorenstein Realty Services LP and a unit of JP Morgan Chase & Co. SRI sued Twitter in January for allegedly failing to pay rent.
Musk has also clashed with the landlord over his plan to remove the 'w' from the Twitter sign at the company's headquarters, changing the name to 'Titter'. He told the BBC that he decided to cover the 'w' with white paint after the property owners refused to let him remove it.
Asked how the proposed homeless shelter would be run, Musk said, "I don't know. We could just let people stay there. It's nice . . . . . They could bring their stuff, bring their tent, whatever." He polled his followers about the idea last year, before buying Twitter, saying workers weren't showing up at the company's offices anyway.
San Francisco has around 8,000 homeless people, contributing to rising crime and thousands of reports of public defecation and drug needles on the streets. It's not clear how Twitter might manage the sharing of its office space with vagrants. Whole Foods announced the closure of its flagship San Francisco store on Tuesday, citing concerns that crime in the area is endangering employees. Managers had reportedly been forced to restrict access to the store's restrooms after used syringes and pipes were found on the floor in November.
Musk told the BBC that Twitter's annual revenue had dropped to $3 billion from $4.5 billion before he bought the company, while its costs had jumped to $6 billion from $4.5 billion. Without the cost cuts or a capital infusion, it had only enough cash to keep operating for another four months. He said cash flow is "roughly breakeven at this point."
You can share this story on social media: