NYPD re-adopts robot dogs
The New York City police force had parted ways with the Boston Dynamics' quadruped two years ago after a public outcry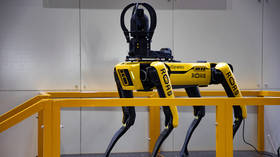 The New York Police Department has brought back Digidog, the four-legged Boston Dynamics robot along with a larger, rounder surveillance bot called K5 ASR, Mayor Eric Adams revealed at a press conference in Times Square on Tuesday.
The robot dogs, that inspired an episode of the dystopian TV series Black Mirror, will only be used during "hostage situations, bomb threats, counterterrorism situations, things where the best course of action will be to send a Digidog in first before a human being," NYPD chief of department Jeff Maddrey told reporters, calling them a "life saving device."
The dogs are equipped with cameras and two-way communications, but weaponizing them goes against Boston Dynamics' terms of service. The city purchased two for $750,000, but "we used forfeiture money," an NYPD officer reassured reporters.
Another new NYPD acquisition, K5 ASR, is a "fully autonomous outdoor security robot" used to collect intelligence. Maddrey compared it to a Roomba robot vacuum. Two K5s present at the presser appeared to suffer technical difficulties, standing still for a minute before wheeling away. Finally, a disembodied voice pledged to "get stuff done."
Neither bot will be equipped with facial recognition technology, NYPD Commissioner Keechant Sewell said, insisting the rollout would be "transparent, consistent, and always done in collaboration with the people that we serve."
"I believe that technology is here; we cannot be afraid of it," Mayor Adams told the audience, explaining that his predecessor, Bill deBlasio, was wrong to retire the robot dog due to public outcry. "A few loud people were opposed to it and we took a step back – that's not how I operate."
The NYPD's previous Digidog was decommissioned in 2021 after residents and local politicians raised questions about safety and accountability, as well as cost. One councilman even introduced a "Stop Killer Robots Act" in the hope of preventing the robot-dog episode of Black Mirror from coming to life.
Those concerns remain at the forefront of opposition to Adams' tech-enhanced policing efforts. "The NYPD is turning bad science fiction into terrible policing," Albert Fox Cahn, executive director of the Surveillance Technology Oversight project, said in a statement following the press conference.
Adams insisted that community leaders would be part of the decision-making process regarding whether they wanted Digidog in their neighborhoods. However, when an audience member asked whether the dog would go "back to the pound" if it was not wanted in a community, he answered in the negative. "Digidog is out of the pound," he boasted.
You can share this story on social media: