Italy declares state of emergency over migration
Officials in Rome say the measure was necessitated by a recent uptick in the number of landings on the Mediterranean coast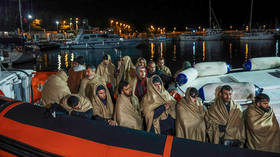 The Italian government has put in place a six-month state of emergency in a bid to tackle a recent surge in the number of new arrivals in the country. As part of the measure, the authorities are planning to earmark €5 million to build new holding facilities for migrants.
The decision was announced on Tuesday. The minister for civil protection and marine policies, Nello Musumeci, cited overcrowded reception centers, and revealed that the state of emergency had been declared at the behest of Interior Minister Matteo Piantedosi.
The last time an Italian government resorted to declaring an emergency over migration was back in 2011 under Silvio Berlusconi.
According to a statement released by the Italian authorities, they are hoping to set up "new facilities suitable both for the reception needs and for the repatriation of migrants" who do not have the right to stay in the county.
The Italian media has reported that a special commissioner tasked with overseeing the allocation of funds will be picked in the near future. While several candidates have been suggested in the press, no official decision has apparently been made thus far.
By early March, more than 17,000 migrants had made landfall in Italy – nearly triple the figure recorded over the same period in 2022.
Prime Minister Giorgia Meloni rose to power last year, vowing to ramp up deportations and stop NGO vessels from bringing migrants to Italian ports. Even though the government has managed to reduce the number of such ships operating off the coast of Italy, the number of new arrivals has nevertheless continued to rise.
You can share this story on social media: