Dozens dead after migrant shipwreck off Italy
The boat is thought to have been carrying people from Iran, Pakistan and Afghanistan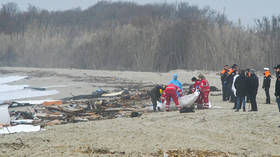 The bodies of more than 40 migrants have been found washed up on a beach in southern Italy after a vessel which was believed to be carrying in excess of 100 people broke apart off the coast on Sunday in rough weather.
Initial reports say the bodies of 43 migrants – believed to be from Iran, Pakistan and Afghanistan – were found on the shore at Steccato di Cutro in the southern Italian province of Crotone, in Calabria. Further bodies were seen to be still in the water, while Italian media are reporting that as many as 70 people remain unaccounted for and around 80 have been rescued.
Rescue attempts have been complicated by emergency services not having reliable information regarding the number of migrants on the vessel, but the death toll will "certainly" rise, according to the ANSA news agency – with a months-old baby being reported among the dead.
Italian Prime Minister Giorgia Meloni has expressed her "deep sorrow for the many human lives cut short by human traffickers" following the incident, while also asking people not to "speculate" as to the number of people who lost their lives.
She added that it was "inhuman [for traffickers] to exchange the lives of men, women and children" for money under the pretense of a safe journey for migrants to Europe.
Mayor of Cutro Antonio Ceraso added that the area had never before encountered an incident as tragic as this. "In the past there had been landings," he said. "But never such a tragedy."
Further updates are expected from Italian authorities on Sunday as a large search-and-rescue operation continues.
In addition to the firefighters and the coast guard, border police were also involved in the rescue operation, as were divers and aquatic rescuers. The origin of the ship remains unclear, but migrants arriving in southern Italy often depart from either Türkiye or Egypt.
Italy and Spain are popular destinations for migrants attempting to cross the Mediterranean Sea into Europe. Estimates suggest that in excess of 100,000 migrants arrived in Italy in 2022, with these people predominantly coming from Egypt, Tunisia, Bangladesh, Syria and Afghanistan.
You can share this story on social media: