Bodies of 18 migrants found abandoned in truck
Six people have been charged with human trafficking in Bulgaria following the incident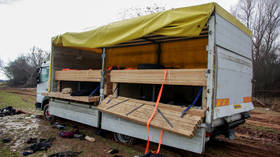 Prosecutors in Bulgaria have charged six people with human trafficking following the discovery near the capital, Sofia, on Friday of an abandoned truck containing the remains of 18 Afghan migrants who died of suffocation.
"The victims died slowly and painfully," Borislav Safarov, head of the country's National Investigative Service and deputy chief prosecutor, said on Saturday. He added that the driver ignored repeated requests to stop the vehicle, despite persistent banging on the cabin.
The driver and a companion abandoned the truck upon discovery of the deaths.
"This case shows an extreme callousness and demonstrates that migrants are seen only as goods that need to be shipped from one place to another, irrespective of whether they are alive or dead," Safarov added.
The truck was transporting a total of 52 Afghan migrants who were hidden under wooden planks and covered by foil to avoid thermal-imaging technology, and who had arrived from Turkey via Serbia. They were destined for western Europe, according to initial investigations. The surviving migrants were transported to local hospitals on Friday where all are understood to be in stable condition.
Six Bulgarians, including the alleged ringleader of a human trafficking group, have been indicted by authorities – one of whom, who remains at large, was charged in absentia, according to a spokesman from Sofia's Public Prosecutor's Office.
Members of the smuggling group face up to 15 years in prison on conviction, including involuntary manslaughter, participation in organized crime and people-smuggling. Safarov added that the 18 victims ranged in age from 13 to 35, and that each had paid around $7,500 to the traffickers.
Bulgaria, which is an EU member state, is often used as an entry point into the European bloc by migrants seeking to gain access to western European nations via its southern border with Turkey.
Thousands of migrants attempt to make the trip every year as they flee war and poverty in the Middle East, Africa and Asia. A United Nations report has warned of an impending humanitarian crisis developing in Afghanistan since the Taliban seized control of the country in 2021, with more and more migrants expected to flee to western countries.
You can share this story on social media: