Scientists caught in massive ashfall (VIDEO) 
The volcanologists say they had to shelter from flying rocks the size of fists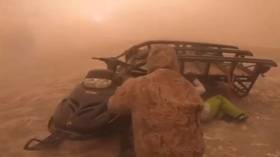 A group of Russian scientists say they were lucky to survive a major ashfall at the Bezymianny volcano on the Kamchatka Peninsula in the country's Far East. Video of the incident was published by RIA Novosti on Monday.
The 2882-meter-tall volcano began erupting in late March, with its activity only increasing since then. On Friday, the scientists decided to place seismographic systems and other equipment at Bezymianny to collect data in anticipation of another, yet bigger eruption.
However, three major emissions took place on the day they were at the volcano, with one of them sending dust 12km into the air and causing airlines to reroute their flights.
The specialists ended up being caught in the middle of the cataclysm. When they realized that they could not flee, they quickly built a shelter using their snowmobiles and sleds.
"Stones began falling, lapilli – porous volcanic formations, reaching the size of a small fist," one of the researchers, Pyotr Kirinkin, recounted.
The rain of volcanic ash continued for around half an hour, but the shelter held, with the scientists avoiding injury and safely returning back to base.
You can share this story on social media: