US ready for war with China – congressman
Washington would put boots on the ground in Taiwan if Beijing occupies the island, Michael McCaul has said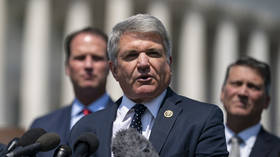 US Congress would authorize a direct military confrontation with China if Beijing launched an attack against Taiwan, House Foreign Affairs Committee Chairman Michael McCaul told Fox News on Friday evening. The Texas Republican representative was talking from Taipei during a three-day bipartisan delegation visit to the self-governing island.
American lawmakers would consent to putting boots on the ground if people in the US support the measure, McCaul said, without elaborating on how exactly such support would be measured. "If communist China invaded Taiwan, it would certainly be on the table and something that would be discussed by Congress and with the American people," he said, adding that "if the American people support this, the Congress will follow."
However, McCaul insisted that a "conflict is always a last resort" and described the US delegation's visit as a way to "provide deterrence to China." US-Chinese relations have previously been strained by the visits of American delegations to Taiwan, which China considers an inalienable part of its sovereign territory.
The representative also maintained that discussions about a potential use of force by America in the Indo-Pacific region serve as a "deterrent for peace" since "you don't have NATO in the Pacific." Doing otherwise would mean inviting "aggression and war," McCaul claimed.
Beijing has repeatedly opposed Taiwan's contacts with the US. The Chinese Foreign Ministry warned on Wednesday that the Taiwan issue is "the first red line that must not be crossed in China-US relations." Washington formally adheres to the One China policy, by which Taiwan is considered an integral part of China. At the same time, the US enjoys close informal relations with the self-governing island and supplies it with weapons.
Washington has ramped up military support for Taiwan in recent months. In the Wall Street Journal, it was reported that the US was planning to increase its troop presence on the island from 30 to between 100 and 200 soldiers as it seeks to help Taiwan make the island "harder to assault." In early March, the US State Department also announced that it was approving arms sales to Taipei, including $619 million worth of munitions for F-16 fighter jets.
On Saturday, the Chinese military announced the launch of three days of exercises in the Taiwan Strait. The drills, held at the same time as McCaul's visit to Taipei and just a day after Taiwanese leader Tsai Ing-wen returned from the US, was designed as a warning to Taiwan and "external forces," the Chinese military said.
You can share this story on social media: